Confucius museum opens in Shandong
chinadaily.com.cn
1567780607000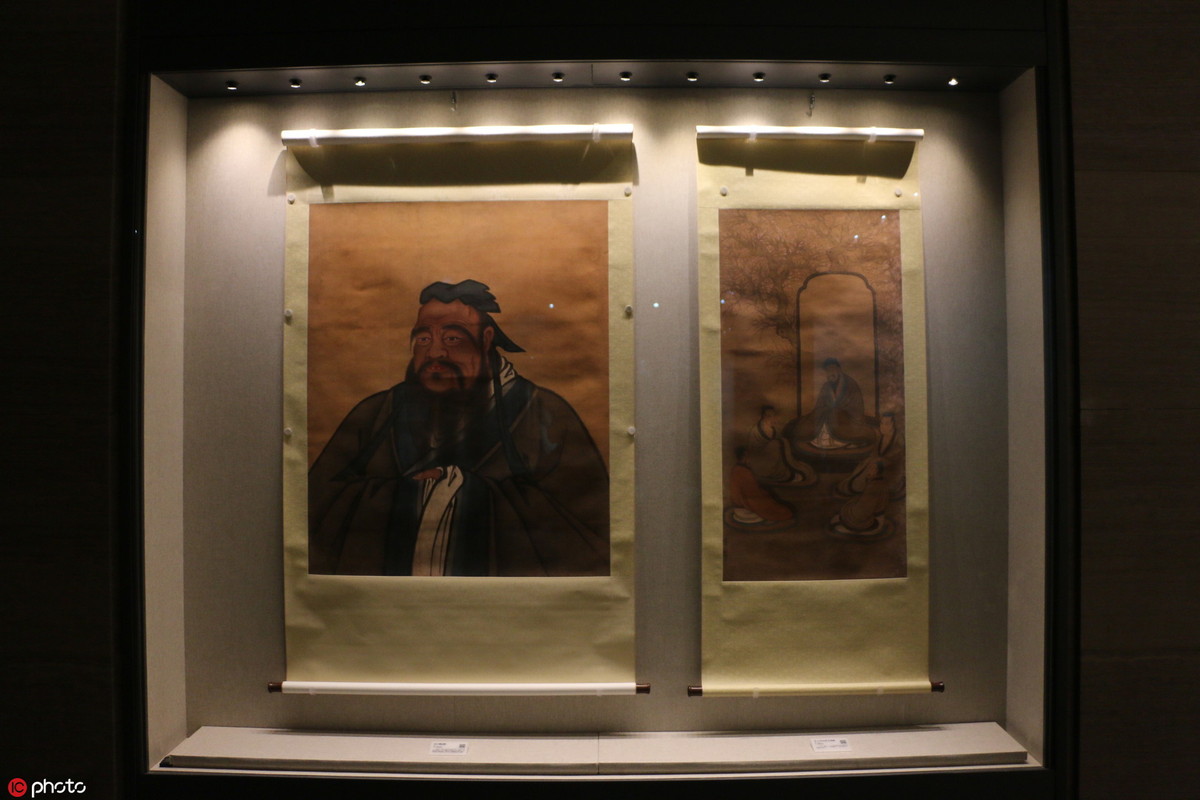 A portrayal of ancient philosopher Confucius is exhibited at the Confucius Museum in Qufu, Shandong province, May 26, 2019. (Photo: IC)
A museum dedicated to ancient philosopher Confucius opened Friday in his birthplace, Qufu, Shandong province, bringing nearly 700,000 cultural relics once kept in the Confucius Family Mansion to the public.
Located five kilometers from the mansion, the Confucius Museum features more than 300,000 Confucius family documents from the Ming Dynasty (1368-1644) to 1948, which record the family's history during feudal times.
The relics include more than 40,000 ancient books dating back to the Song Dynasty (960-1279), more than 8,000 well-preserved pieces of clothing and accessories from the Ming Dynasty and Qing Dynasty (1644-1911), as well as a large number of musical instruments that were used for worshipping Confucius.
"Such a large amount of exquisite and well-preserved Ming Dynasty clothing can only be seen in this museum," said Zhang Qiqi, museum staff member.
Visitors can also take a close look at 10 sets of bronze pieces from the Shang (c.16th century-11th century BC) and Zhou (c.11th century-256 BC) Dynasties at the museum.
The bronze works were royal gifts from emperor Qianlong (1711-99) of the Qing Dynasty after he attended a worship ceremony at the Confucius family mansion, said Zhang.
Having taken five years to complete, the museum covers 55,000 square meters. The main museum complex consists of a 17,000-square-meter display area, including sections on the life and wisdom of Confucius, as well as his influence on Chinese and world civilizations.
The museum was put into trial operation on Nov 26 last year and exhibited 2,500 relics. Over 232,000 people have visited the museum.
"Quite a number of cultural relics in Qufu couldn't be stored properly before we had this museum and those that have been stored were not able to be showcased to the public," Kong Deyong, a 77th-generation descendant of Confucius said when the museum was put into trial operation.
Building a museum that provides people with access to these Confucian relics is a major event for Confucian study and it will attract more people to learn about Confucian culture, he said.
To help people better understand Confucian culture, the museum uses state-of-the-art technologies in acoustics, light and electronics to give attendees the best experience possible.