Hollywood blockbuster 'The Lost City' hits Chinese screens
China.org.cn
1658998529000
Hollywood blockbuster "The Lost City" will delve into Chinese mainland theaters on July 29.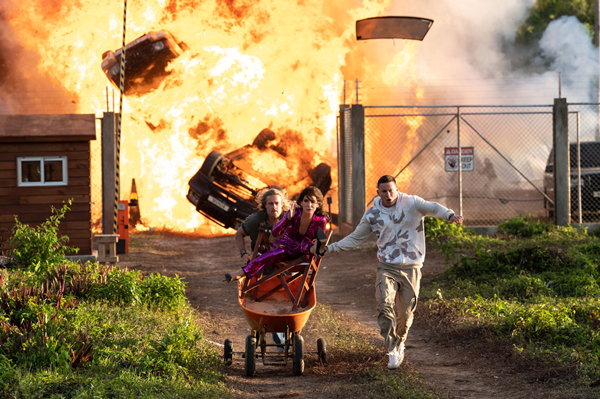 A still image from the movie "The Lost City." [Photo courtesy of Paramount Pictures]
Under the helm of the brothers' duo Aaron and Adam Nee, the film stars some of Chinese audiences' favorite Hollywood stars from Sandra Bullock and Channing Tatum to Daniel Radcliffe and Brad Pitt.
The new film integrates elements of action, adventure, treasure hunting, comedy and romance, telling the story of a reclusive romance novelist on a book tour with her cover model and how they get swept up in a kidnapping attempt that lands them both in a cutthroat jungle adventure to find the lost ancient city described in one of her books.
"We are very excited for you guys to see our new movie 'The Lost City,'" Bullock said in a promotional video tailored for the Chinese market, before Radcliffe added, "If you like laughs, action, adventure, intrigue and a dash of romance, then this is the movie for you."
Paramount Pictures held a premiere event in Beijing on Tuesday, decorating a local theater with jungle elements and replicas of scenes from the film. The audience enjoyed a thrilling, silly and fun ride at the advanced screening.
On review-aggregation website Rotten Tomatoes, the film has an approval rating of 79 percent based on 250 reviews. Before it opens in China on Friday, it has already grossed over $190 million worldwide in other markets.