Doll symbolizes better lifestyle as people move
People's Daily
1591230552000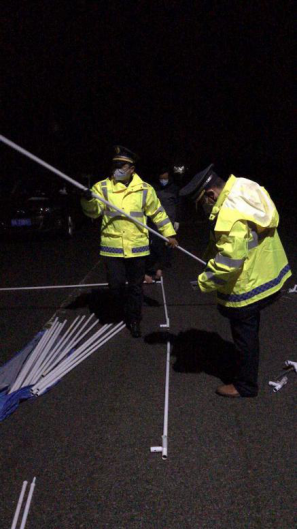 Luo Yinghe (L), a deputy at the third session of the 13th National People's Congress from Huishui county, Southwest China's Guizhou province. (Photo: social media)
Luo Yinghe, a deputy at the third session of the 13th National People's Congress from Huishui county, Southwest China's Guizhou province, brought several dolls wearing the traditional clothes of the Miao and Buyi ethnic groups to this year's two sessions and showed them to journalists and other deputies.
For the 42-year-old Party chief of Xinmin community, Huishui, the dolls are more than just local products. They are also a symbol of the life changes experienced by people moving from deep in the mountains to a new community.
Luo used to live in Doudi village, one of the poorest regions in Guizhou where there was no road, no water supply or communication equipment.
"We used to hike in the mountains for a long time to buy salt or oil. The land was not suitable for growing crops, and we could only grow some corn in stone cracks, but that wouldn't be enough to eat," says Luo.
In 2016, Luo and more than 5,000 Doudi villagers moved off the mountain at the request of the government to Xinmin community where there are hospitals, schools and markets meeting people's various needs.
"Some villagers had misgivings about the move. Some worried they would not live better than before, some considered they might not be acclimatized to the new environment, and others doubted whether they would find proper jobs," says Luo.
Luo and other community officials made every effort to dispel their misgivings. "As one of those who moved out, I totally understand their hesitation and fear, and want to help them to get used to the new environment."
For example, before moving, villager Luo Guozhi, who was nearly 70, had never been out of the village. He found it difficult to leave where he grew up. However, Lou Yinghe persuaded him by explaining the benefits of the move for both him and his family, and how much better life would be for all of them in the new community.
"Now, Luo Guozhi's family lives a happy life. His son, daughter-in-law and grandson have all found jobs in the community, and their family can earn more than 10,000 yuan ($1,398) each month," says Luo.
They also went to people's homes and told them how to arrange furniture, how to use the water, electricity and new utensils in the new houses.
Luo also established a training school, where people can learn technical skills like electric welding, housekeeping, sewing and computer literacy, to help them get jobs. So far more than 3,800 people have received such training.
Additionally, to help local people find work, the community now cooperates with Beijing Tang Ren Fang Culture Development Co, a doll company based in Beijing, and has established two poverty-alleviation workshops to make the dolls. The community sent some young people to receive training for a year at the company, and then they returned to teach other villagers. Now more than 300 villagers man the workshops, and each of them can earn 3,000 to 5,000 yuan a month by making dolls.
"Most people in our village are from the Miao and Buyi ethnic groups, and we want to show the features of our groups by making dolls wearing our traditional clothes. At first we mainly made dolls showing features of Miao and Buyi, now we are making dolls of all the 56 ethnic groups and of Peking Opera characters," says Luo.
"Our dolls sold well in Beijing. This year, we have received orders worth 1 million yuan. We want to enlarge the scale of the business and find more sales channels for our products."
By the end of 2019, Guizhou had relocated 1.88 million people from inhospitable places to resettlement areas.
As a deputy to the 13th NPC who is also "a beneficiary of poverty alleviation relocation policy", Luo's proposals during the two sessions are always related to the policy. After investigating more than 50 relocated communities of Guizhou in 2019, this year he proposed that the government establish more poverty-alleviation workshops and offer more favorable policies to help their development.
When the COVID-19 hit China earlier this year, Luo took the lead in disseminating information about the pandemic in the community, inspecting and registering the situations of every household and keeping people's mobility in the community under surveillance.
"Since Feb 18, people started to return to work. They were required to wear masks and sit in a dispersed way in the workshops. The workshops were also well ventilated. Now people's work and life have almost returned to normal," says Luo.