Culture carnival provides platform for diverse beauty
Global Times
1558031702000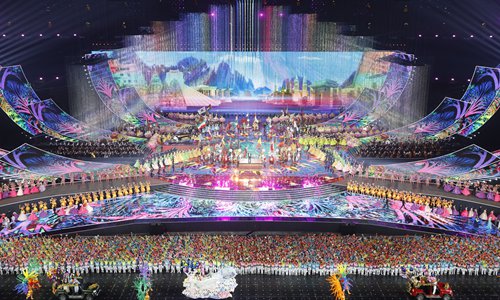 Performers from different countries sing "Our Asia," the theme song of the Asian Culture Carnival. (Photo: Global Times)
Backstage stories of the Asian culture carnival during the Conference on Dialogue of Asian Civilizations in Beijing were revealed on Thursday, showing how the carnival served as a great platform for Asian civilizations to display their diverse beauty to the world.

Fourteen performances at the carnival, held Wednesday evening, included singing, dancing, musical instruments playing and other forms. The performers were from countries around Asia as well as Russia and Italy.

In a press conference on Thursday, the director team revealed the backstage stories of the carnival, noting that more than 8,000 performers joined the carnival on a stage of 15,000 square meters, covering two-thirds of the National Stadium, or Bird's Nest.

A screen of 390,000 LED beads was installed to enrich the visual display, which was recognized as the largest LED screen by Guinness World Records.

Apanaeva Gyuzel, who led a team of Russian artists to the carnival, told the Xinhua News Agency that "The stage, equipped with the latest visual technologies, is very impressive."

"We learned a lot and made many friends," she said.

Srikanth Kondapalli, chairman of Center for East Asian Studies in Jawaharlal Nehru University, who attended the carnival, said the show was "spectacular."

"This carnival was very big and the performers have done it very good on massive scale," he told the Global Times on Thursday.

Yang Dongsheng, director of the carnival, said at Thursday's press conference that it is challenging to conduct such a performance due to the abundance of content and the time limit.

"We try to organize performances into different themes," Yang said, citing the dance "Passion of Fire" as an example.

The performance brought together dancers from many countries to show the beauty of different styles, he said.

Yang said that the production team tended to choose ones that represent different countries' own culture.