Chinese PE teachers make US journey to bolster sports education
People's Daily app
1538759505000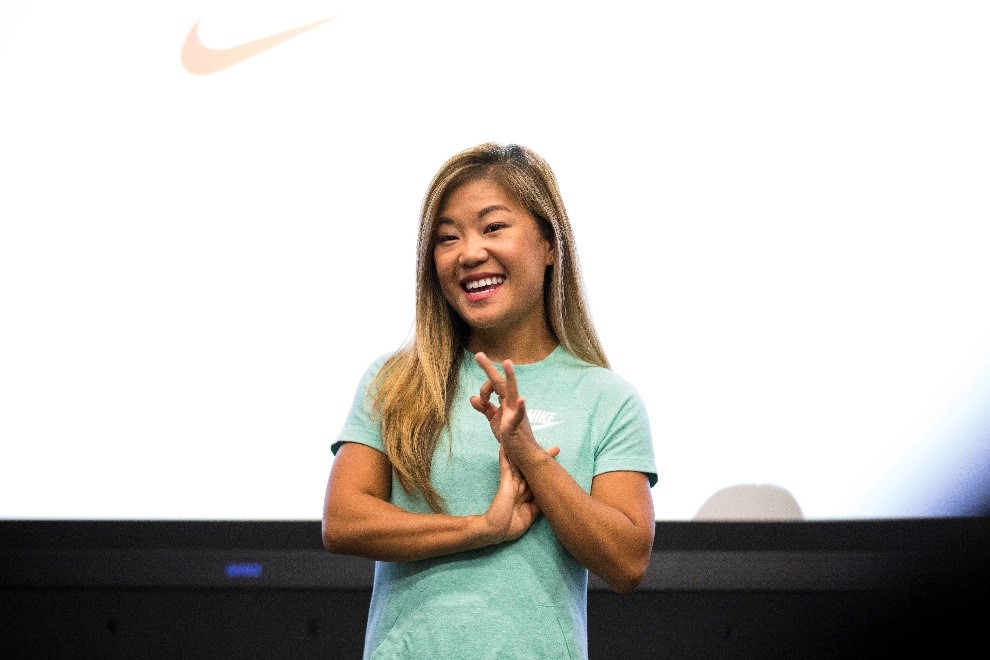 Scout Bassett, Paralympian and world record holder in 400m, joining the discussion session to share her experience and sports spirit.
The sharp sound of a starting pistol rings through the air as nine sprinters make their way across a track like arrows shot from a bow. They weren't typical athletes, and it wasn't a typical race, it was the 2016 Rio Paralympic games. Out of the nine sprinters, the smallest struggled the hardest just to make it to the finish line. Her name was Scout Bassett.
"I finished Rio in 5th place, I just committed four years of my life to this, seven hours a day, six days a week, I finished in 5th place, it was disappointing," said Bassett. After failing to secure a medal in Rio, Bassett didn't know what she should do next or where she would go. It was like a feeling of powerlessness all over again as years of recovery and exercise now felt meaningless.
"But the things I have to look back on and understand is that the journey of the past four years has been incredible," she said, adding "sometimes it is not about the victory, it is not always about the outcome, but more about what you gain in the journey along the way."
Abandoned orphan to athletic superstar
Bassett is a Chinese-American Paralympian who has won medals at multiple world championships. She is currently working with Nike while also serving as an athlete ambassador and motivational speaker.
Bassett lost her right leg in a fire when she was an infant and afterwards was abandoned on the streets of Nanjing. She lived in a state-run orphanage for seven years and was adopted by an American couple from Michigan in 1995.
"Actually, when I was a child, I thought disabled people had no use in this world." Bassett recalled. When she was 14 years old, she received her first prosthetic limb from the Challenged Athletes Foundation (CAF). "I finally got on the runway" she said with a smile on her face, "finally I felt I could do all of the things that I had ever wanted to do."
Circling back to where it started
"I had a hard time with other children when I was little, being the only Chinese in a small town and also disabled," she reflected.
To better connect with her peers, she gave sports a shot. After trying a variety of athletic disciplines, she found her passion for running. She was later introduced to CAF and started training professionally.
"My nationality is American, but I am very much Chinese," she said, stressing that she is proud of where she comes from, especially after her visit to Nanjing a few years ago. She felt the city and its people provided her more pride.
As Basset explained, she participated in Nike's Active Schools program because, "Children are not meant to sit in the classroom but to be involved in activities outside of the classroom."
Basset returned to China to compete in the ITU Paratriathlon World Championships in 2011. She said returning to China for the first time was an emotional experience. She wept on the day of the race, shedding joyful tears as the experience of competing in her homeland and for the US was overwhelming.
Stories that need to be told
Her connection with China is very important, and not only because the companies she works with are closely connected to her homeland. Having the opportunity to influence Chinese society about those who live with disabilities and the unique value they have offer is enough for her.
"I see there is so much potential with acceptance and love in China. We can show the public that people with disabilities have much to offer," she said.
When she first started working as an athlete ambassador and motivational speaker for Nike, Bassett was invited to Nike's Los Angeles Lab to meet with Chinese physical education teachers. She shared her experiences and motivations that have helped her achieve her goals as an athlete, and she believes the hardship and obstacles contributed to her accomplishments.
Bassett hopes to continue to advocate for adaptive athletics in China, because meeting Chinese disabled athletes is something special to her, and she believes these athletes need to be seen and their stories need to be told. Nike's efforts in China have initiated physical education programs for children.
China increases value on sports education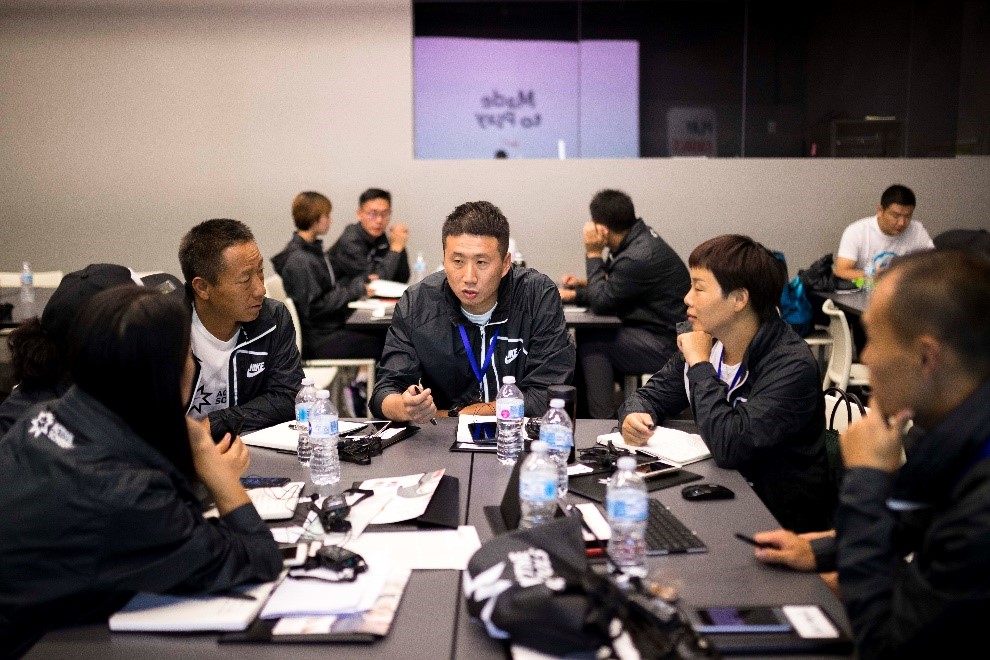 Visiting Chinese PE teachers discussing innovated teaching methods.
Recently, Chinese PE teachers from elementary schools across the country were invited by Nike to visit the company's extension lab in Los Angeles, California and attend the Active Schools Innovation Awards presentation. It during the event that they were able to meet Bassett, who happens to be the current world record holder in the 400m.
Nike initiated its Active Schools program in 2013 as part of a long-term strategic partnership with the Chinese Ministry of Education, which aims to foster sports culture in Chinese schools.
Today, over 1 million students from some 3,800 schools have benefited from the program. The program aims to train over 7,000 PE teachers nationwide by the end of next year and dispatch them to select schools in Beijing and Shanghai to promote physical education.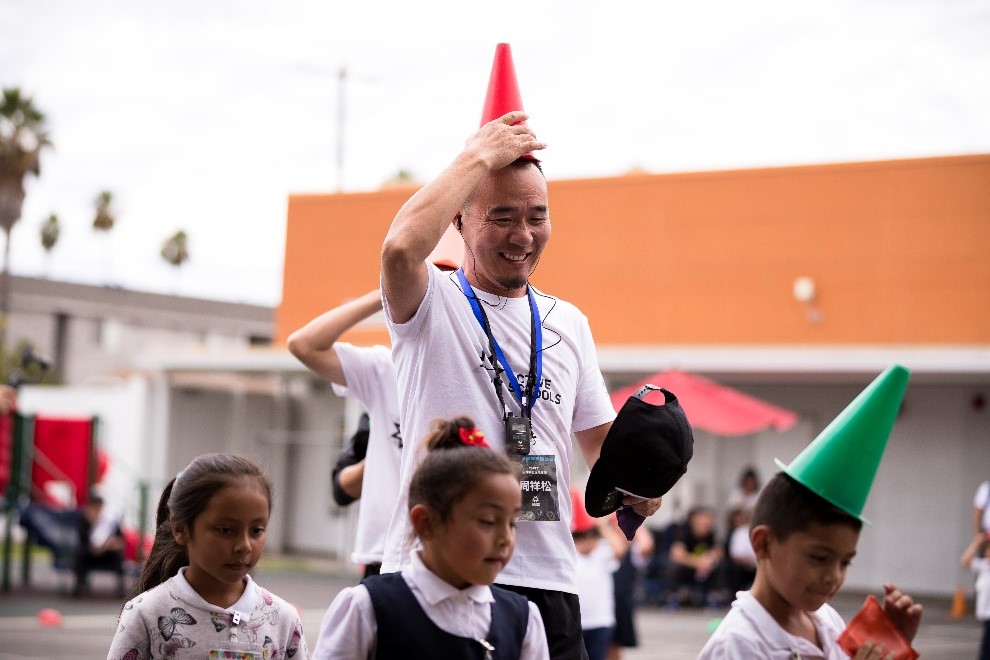 Visiting Chinese PE teachers joining the PE class in a local elementary school.
Not long after, under the guidance of China's Ministry of Education, Nike and China Education Development Foundation launched "Nike's Active Schools Innovation Award" in 2017, aiming to encourage schools to expand physical education creatively and efficiently.
This year, the second Nike's Active Schools Innovation Award invited award winners to the Beijing National Aquatics Center to the award ceremony, along with a trip to the US as a prize, to experience American sports culture.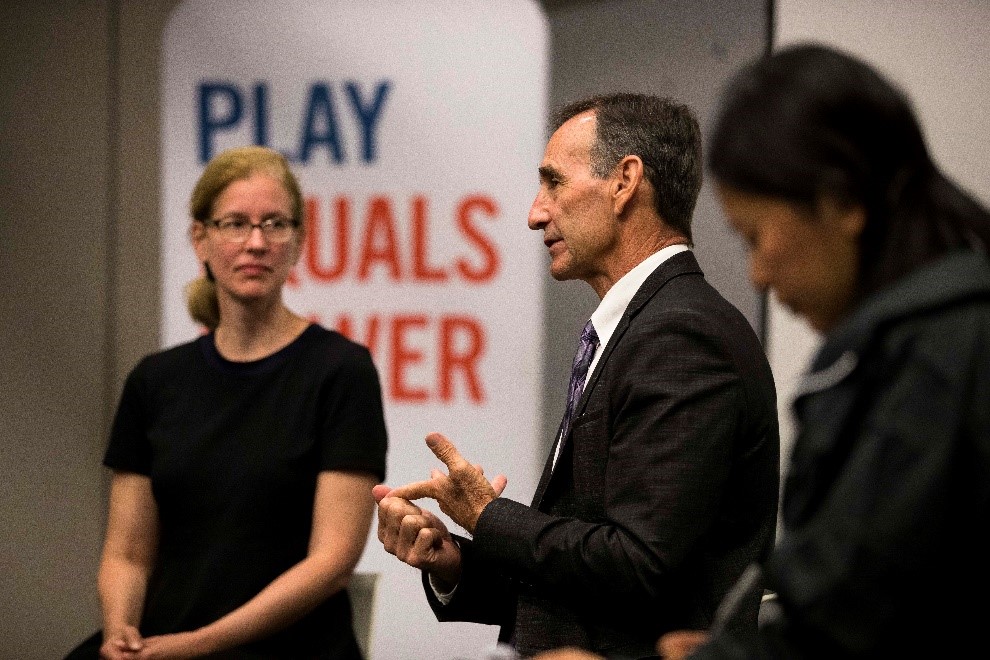 Caitlin Morris, General Manager of Nike Global Community Impact, and Chad Fenwick, Sports Consultant of Los Angeles Unified School District, holding discussion session with visiting Chinese PE teacher.
Caitlin Morris, General Manager of Nike Global Community Impact, said the sports company will continue to focus on physical education and innovation. Morris also said Nike will keep investing in the Active School program in China despite the huge successes and growing influence.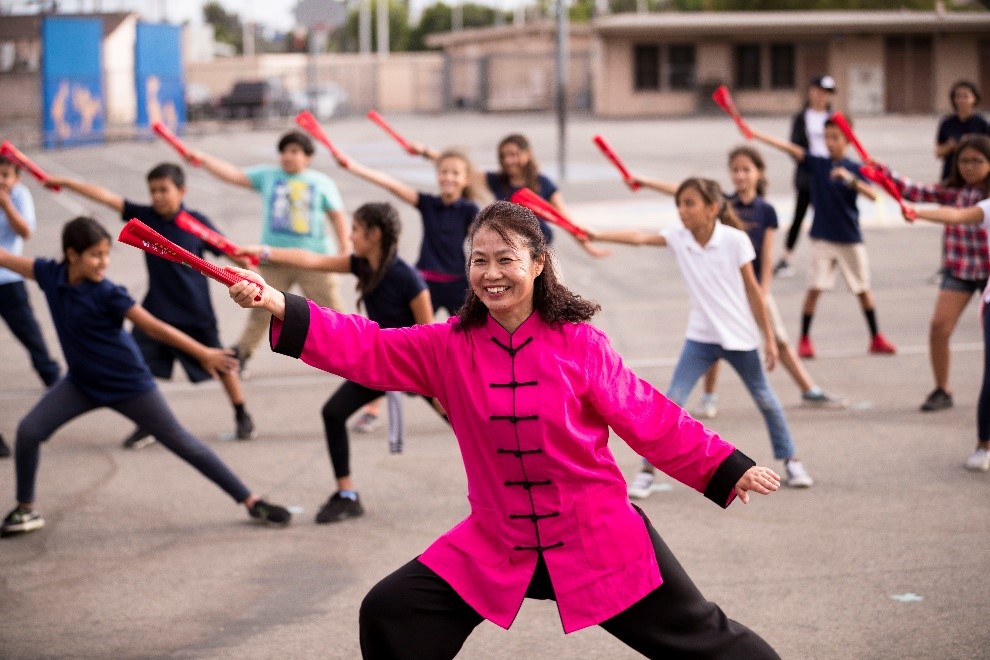 Chinese PE teachers teaching traditional Southern Chinese martial arts.
After their Los Angeles visit, the teachers traveled to Portland, Oregon where they spent their National Day holiday. They visited elementary schools interacted with teachers and students.
During one of their visits, a PE teacher taught children the basic movements of traditional Southern Chinese martial arts.
The Chinese group fused traditional culture and sports into an innovative teaching method that left a deep impression on the classrooms they visited.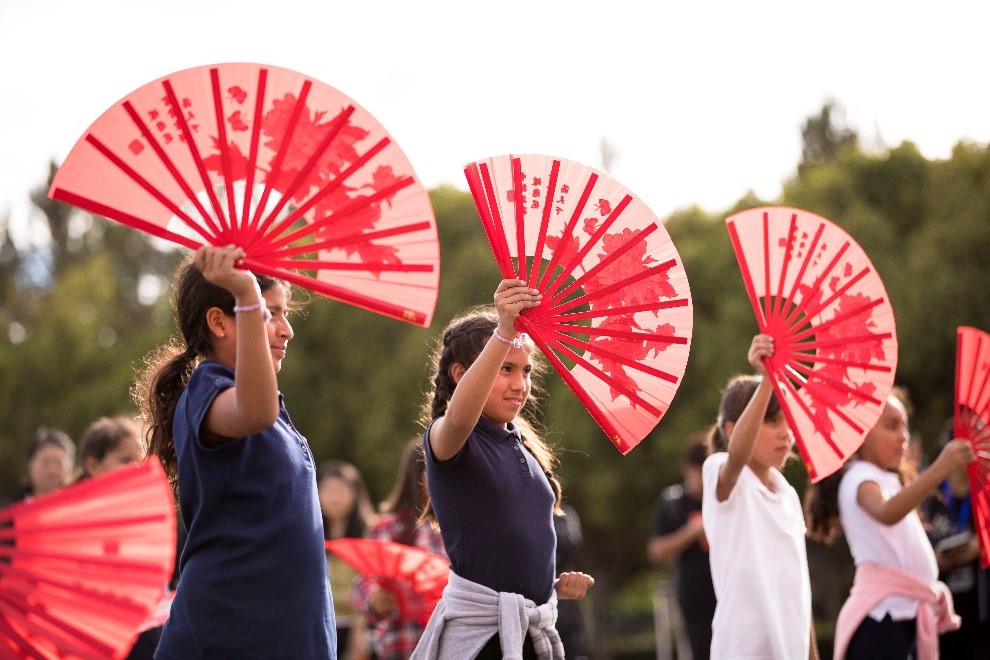 Chinese PE teachers teaching traditional Southern Chinese martial arts.