Team created to protect Great Wall 24 hours
Global Times
1560098580000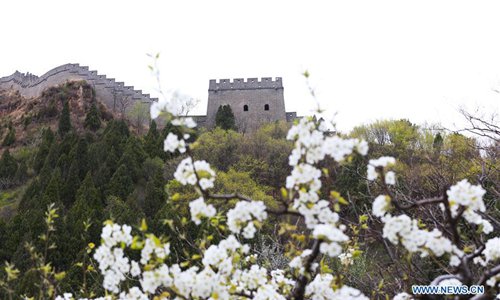 Photo taken on April 18, 2019 shows a watch tower of the Huangyaguan Great Wall in Jizhou District of Tianjin, north China. May 5 marks the opening of "Tianjin Day" theme event at the Beijing International Horticultural Exhibition in Beijing. The city strengthened ecological and wetland protection under the theme of "eco-friendly Tianjin, green development." (Photo: Xinhua)
The capital of Beijing created a team on Saturday to protect the entire Great Wall in the city.

The team has 463 members, whose duties include patrolling key parts of the wall 24 hours, responding to emergencies and stopping climbing, The Beijing News reported on Saturday.

The team will take photos and upload them to a system every time they patrol the wall.

They will also describe the situation at the wall and send their report to the system, which will analyze the situation at different times on the same spot.

Liu Zheng, a member of the China Cultural Relics Academy, told the Global Times on Sunday that establishing the team means a lot to the wall's protection work.

"They can take charge of every portion of the Great Wall in Beijing and can immediately report any problem, which will overcome protection difficulties caused by the wall's length," Liu said.

"The municipal authorities have included protection work in its urban planning, rather than just a tourism project, and have made huge progress," he added.

The latest move was announced at an event to celebrate this year's Cultural and Natural Heritage Day, which falls on the second Saturday in June.

Ten projects to reinforce the Great Wall will also be launched this year, China News Service reported.

The Beijing portion of the Great Wall is 520.77 kilometers long, the Xinhua News Agency reported in April.

The report said that since 2000, Beijing has provided 470 million yuan ($70 million) to the Great Wall protection fund.