Women opting to receive shots overseas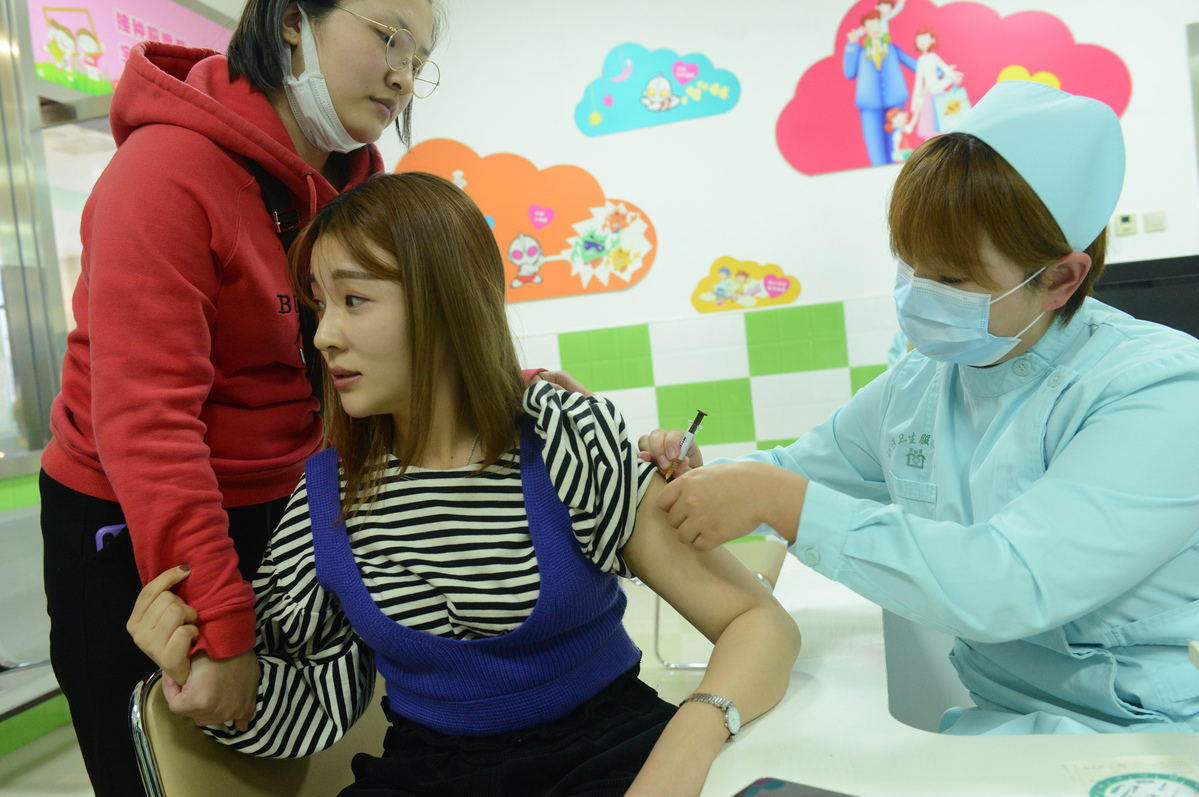 A woman has a 9-valent vaccine shot in Zhengzhou, capital of Henan province. Each year, some 131,500 new cervical cancer cases are reported in China, and about 53,000 patients die from the disease. (Photo: China Daily)
The human papilloma virus (HPV) vaccine protects women against developing cervical cancer. Getting vaccinated near home or the workplace is convenient but demand and supply come into play.
The vaccine is only approved for females ages 16 to 26 on the Chinese mainland, and because of excessive demand, many young women head to other destinations.
Some countries and regions near the mainland have a maximum age of at least 45 for the vaccination. Hong Kong is one such region.
Chu Chen, a Beijing resident who managed to get the first shot of the three-dose vaccination before she turns 26, said many of her friends have been vaccinated in places such as Hong Kong, Macao, New Zealand and South Korea.
Some were studying overseas when they got the vaccination, some traveled for both sightseeing and vaccination, while others went abroad solely for the vaccination.
She and her friends were aware of the risk of HPV infection and related diseases such as cervical cancer, and felt compelled to spend money on vaccination.
"Cervical cancer is horrible, and since there is a vaccine to protect against the cancer, I don't see why I cannot have it," Chu said. "If one cannot have the vaccination at home, going overseas is a decision that doesn't need much hesitation to make, despite the fact that costs will be much higher."
Wang Yi, a 33-year-old woman living in Beijing, will receive the second dose of the 9-valent HPV vaccine in Hong Kong. This treatment covers nine types of HPV.
She had the first dose in May at a well-known public hospital, through an agency that promises the complete vaccination involving three doses over six months as required. The cost was HK$6,800($868).
Apart from that, she needs to spend thousands of yuan more on hotels and transportation and take time off from her busy work schedule as a public relations specialist in the entertainment industry.
"The inconvenience is not a big deal as long as I can have access to the 9-valent HPV vaccine," she said.
"I chose a one-time payment for all the three shots as a guarantee, because I thought since I had paid all the fees, they would provide me with the service no matter what happened."
Since May, the price of the 9-valent HPV vaccination has risen to nearly HK$10,000 in some private clinics, driven by the growing demand from the mainland caused by the shortage of the vaccine, according to Wang.
She said she has been trying to make a reservation for the second dose at the same public hospital, but has not been successful.
She will probably have the second and third doses at private clinics, which have fewer applicants than public hospitals, because of the cost.
However, Zhao Heng, founder of consulting company Latitude Health, said there are no worries about having the HPV vaccine overseas, because it is difficult to issue complaints or a lawsuit if any medical incident occurred.
Wang, however, believes the strict regulation of medicine and medical licenses in Hong Kong is a guarantee of the vaccine's quality despite a private clinic recently being accused of using fake or smuggled HPV vaccines.