Thai construction tycoon accused of poaching leopard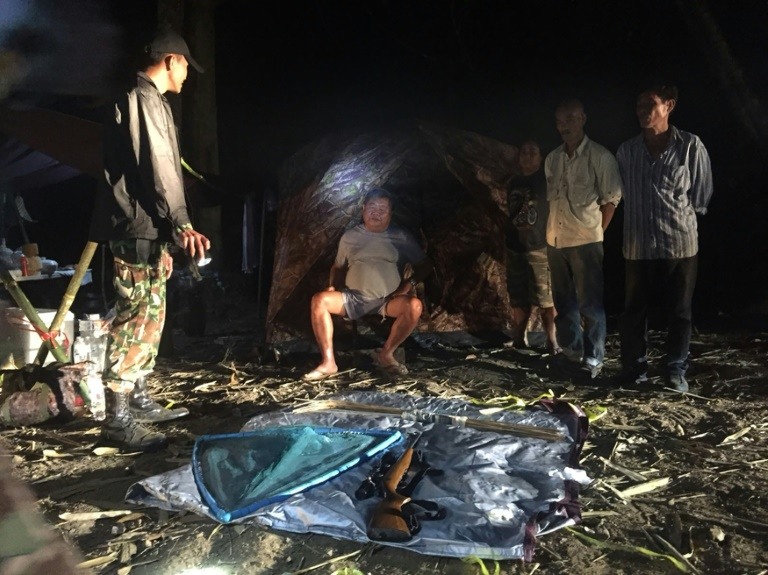 Thai construction tycoon Premchai Karnasuta is arrested by authorities for poaching protected animals in a national park. Photo: AFP
A Thai construction tycoon has been arrested for poaching in a protected wildlife sanctuary, police said Tuesday, as photos of hunting equipment and animal carcasses including a black leopard circulated on social media.
Premchai Karnasuta, president of Italian-Thai Development, a Bangkok-based company that helped build Thailand's Suvarnabhumi airport and the capital's elevated Skytrain, was arrested along with three other suspects.
Park rangers seized three rifles, 143 bullets and other hunting equipment as the group were detained in the Thungyai Naresuan national park in tourist-friendly Kanchanaburi province on Sunday.
Photos released by park authorities show Premchai sitting in front of a tent surrounded by police, as well as animal skins, carcasses and a large hunting rifle with a scope.
"They were charged with illegal hunting, (and) illegal possession of carcasses of protected animals," the national parks department said in a statement Tuesday.
Thailand's Wildlife Friends Foundation (WFFT) applauded the rangers and identified the slain animals as a black leopard, a Kalij pheasant and a red muntjac or barking deer -- protected species under Thai conservation law.
The wildlife sanctuary in western Thailand hosts wild elephants, tigers and many endangered species, according to WFFT.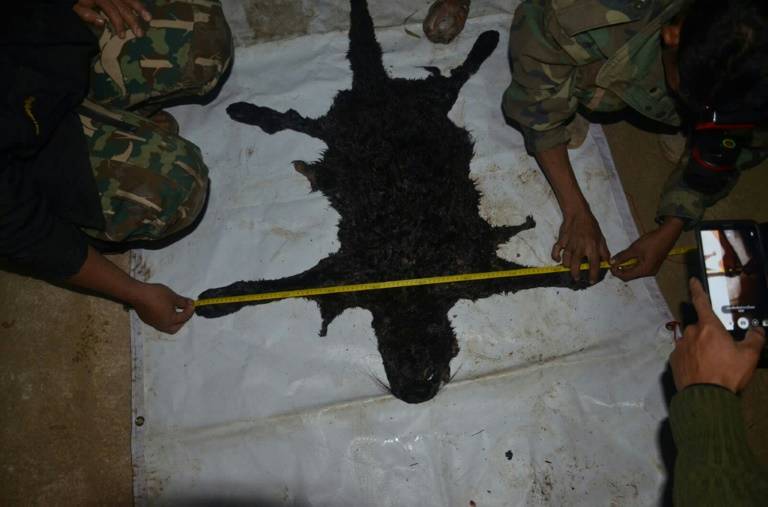 The skin of a black leopard allegedly killed by Thai tycoon Premchai Karnasuta is inspected after his arrest. Photo: AFP

Sasin Chalermlarp, chairman of conservation group the Seub Nakkasathien Foundation, urged the government "not to fear the suspect's business status and proceed under the law until the case is finalised to set a precedent".
Italian-Thai Development did not immediately respond to requests for comment.
Major Wutthipong Yenchit, police superintendent in the area where the arrests were made, said the four were granted bail on Tuesday.
Listed on Thailand's Stock Exchange, the company known as Ital-Thai has been involved in several mass transit projects and operations in numerous countries abroad.
Park authorities have charged Premchai, dubbed a "master builder of Thailand" in a 2011 Forbes profile, with seven counts under the Protection and Conservation of Wildlife Law.
Thanya Netithammakun, director-general of Thailand's Department of National Parks, Wildlife and Plant Conservation, told reporters on Tuesday that "according to the official report, Premchai was among the suspects".
Authorities did not witness the shooting of any animals, he said.
Poaching in Thailand's protected parks is relatively rare compared to neighbouring countries in Southeast Asia.
But the country is a key transit link in a global wildlife trafficking trade that funnels ivory and other illegal animal parts from Africa through to Asia.