Scientist warns less water supply as glaciers retreat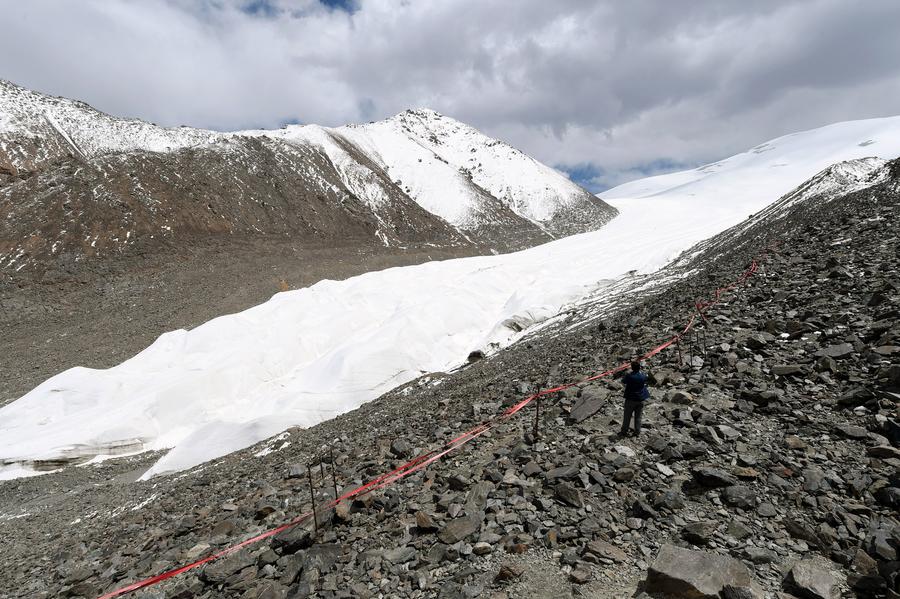 A photo taken on May 23, 2015, shows a shrinking glacier in the Qilian Mountains, Northwest China's Gansu province. (Photo: Xinhua)
Glaciers that have offered water supplies to traders traveling along the ancient Silk Road for over a thousand years are retreating fast, reported chinanews.com.
The glaciers on the Qilian Mountains, which straddle the border between Gansu and Qinghai provinces in Northwest China, have shrunk by more than one-third since the 1960s, according to a newly published book on the geological history of Gansu province.
According to the book, the past half-century has witnessed an accelerating shrinkage of glaciers on the Qilian Mountains as a result of rising temperatures.
Wang Nai'ang, the author of the hydrology section of the book, said glaciers on Qilian Mountains feed the rivers and groundwater of the Hexi Corridor area, an important pathway in the ancient Silk Road. He said the retreat of glaciers on the mountain range will have major impacts on the productivity and life of local residents.
Since the 1980s, temperature hikes and rainfall reduction in the Qilian Mountains have been recorded, which came as a result of global warming, said Wang.
The rising temperatures have accelerated the melting of glaciers, creating more water, said Wang. However, in the long run, the retreating glaciers will lead to less meltwater and fewer water supplies to the area.
With the current speed of global warming, the glacial retreat is estimated to continue into the mid- and late-21st century, when some small glaciers covering less than 2 square kilometers will disappear, said Wang.
He said the retreat of glaciers is a threat to the sustainable development and ecological security of the environmentally fragile area, which is plagued by water shortages.
He called for local authorities to strengthen systematic monitoring and surveys on the consequences of environmental changes in order to take measures to mitigate the impacts and cope with them.