First film on China's overseas evacuation from diplomats' perspective
China.org.cn
1664684874000
A new film focusing on the evacuation of trapped Chinese nationals from a war-wrecked African country hit Chinese screens on Sept. 30, the eve of China's seven-day National Day holiday.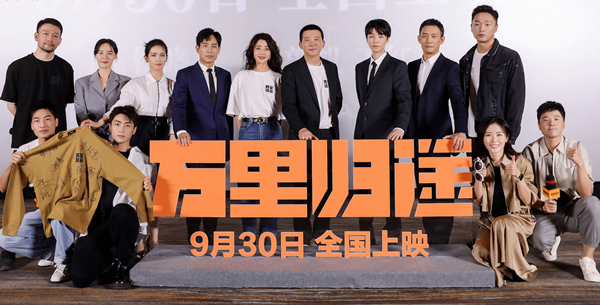 "Home Coming," directed by Rao Xiaozhi and starring veteran actor Zhang Yi and heartthrob young actor Wang Junkai, originally from teen sensation boy group TFBoys, tells how two unarmed Chinese diplomats, who lose contact with the Chinese embassy, lead 125 Chinese citizens to embark on an exodus to return to China through chaos, riot, battlefields, and desert in a fictional country in North Africa. It is inspired by a real evacuation event in Libya in 2011, when the Chinese embassy evacuated more than 30,000 Chinese nationals over 12 days.

Rao said he and the crew combed through many reports and documents about the evacuation to create the story, which has both thrills and touching moments. "Home Coming" is an eye-opening work that demonstrates how Chinese diplomats working in extreme environments overcome various dangers and challenges to protect overseas compatriots. "The real diplomats are also ordinary people; they are fathers, husbands, and sons, but they need to get to the frontline as their professional ethics and responsibilities demand. Their bravery and sacrifice deeply moved me," Rao said at the premiere of his new film in Beijing on Monday.
The film is a one of Huace Pictures' key projects and was formerly known as "Translator." The director's long-time friend and colleague, Frant Gwo, director of sci-fi blockbuster "The Wandering Earth," served as executive producer of the film. Gwo said he was working on "The Wandering Earth 2" while Rao was shooting "Home Coming" in Qingdao. Gwo added that he was so impressed by the realism of the set of "Home Coming" that he wanted to borrow parts of it to shoot some scenes for "The Wandering Earth 2." The crews of the two film projects even exchanged some props for shooting.
Rao described how he and his crew traveled all over China to find suitable filming locations, including Qingdao, Beijing, and Yinchuan since they were unable to leave the country due to travel restrictions brought by the COVID-19 pandemic. The whole African city set was built to a 1:1 scale in Yinchuan, capital of northwest China's Ningxia Hui Autonomous Region, with the designers focusing on every last detail to make the African buildings, replicas, and props as convincing as possible. The cast and crew also had to immerse themselves in the real desert environment near Yinchuan to experience a similar environment as if they were in Africa.
Though lacking the kung fu action scenes found in other blockbusters such as Wu Jing's "Wolf Warrior 2" and Dante Lam's "Operation Red Sea," which are also about rescues and evacuations, albeit in a more explosive way, it was actor Zhang Yi's multi-layered acting genius, the solid performances of his supporting actors, a tight script, and a tense plot that will move audiences. "Home Coming" is also filmed for IMAX, which enhances the immersive watching experience.