Rockefeller's Picasso could be part of biggest art collection ever sold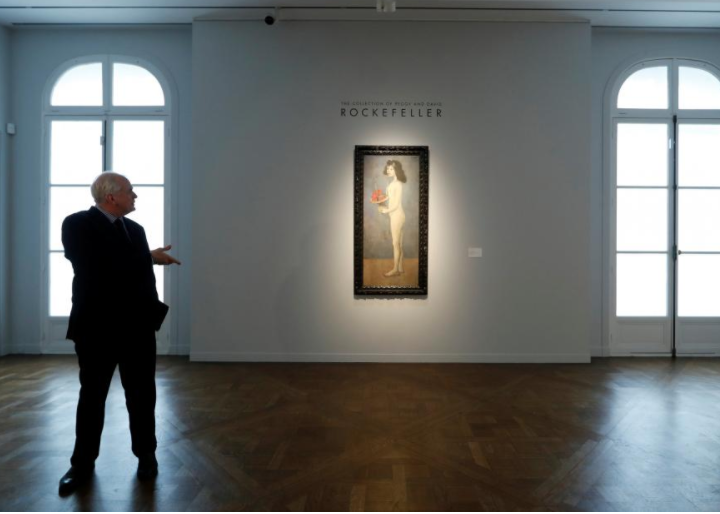 Jonathan Rendell, deputy chairman and senior advisor Christie's Americas stands next to 'Fillette a la corbeille fleurie' by Pablo Picasso from the collection of Peggy and David Rockefeller during a sale preview at Christie's auction house in Paris, France March 13, 2018. Picture taken March 13, 2018. (Photo: Reuters)
A rare Picasso once owned by Gertrude Stein is part of an art trove belonging to the Rockefeller dynasty that could raise half a billion dollars this year, in what auctioneer Christie's says could be the most valuable sale ever of a private collection
Ten works on display at Christie's in Paris, including the Picasso and a Monet, represent a small fraction of the 1,600 lots once owned by billionaire banker David Rockefeller and his wife Peggy that will go under the hammer in May for charity.
David Rockefeller, a former CEO of Chase Manhattan bank and grandson of the oil tycoon John D. Rockefeller, died last year at the age of 101.
"We're talking probably north of 500 million dollars which will make it the most valuable collection sale of all time, and the most valuable charity sale of all time," Christie's auctioneer Jonathan Rendell told Reuters TV.
The showpiece of the collection is Picasso's "Young Girl with a Flower Basket", painted in 1905 and acquired by the artist's friend and collector, the American novelist Stein.
Rockefeller and a group of collectors purchased Stein's art in 1968, drawing lots for the works they would keep.
The Picasso masterpiece, depicting a statuesque nude with a melancholy expression, hung on the wall of Rockefeller's library for decades and Christie's expects it to fetch between 90 and 120 million dollars.
Also on sale is a small painting of an apple which Picasso gave Stein as a Christmas gift in 1914 after she told him of her disappointment that her brother Leo had held onto a Cezanne still life of apples when they split up their own collection.
The proceeds of the sale will go to charities including Harvard University and the Museum of Modern Art.
Rendell said he anticipated the works would likely be bought by private collectors, though some could end up in museums. The sale will take place at New York's Rockefeller Center in May.