Japan's Ramu Kawai wins first Youth Olympics breaking gold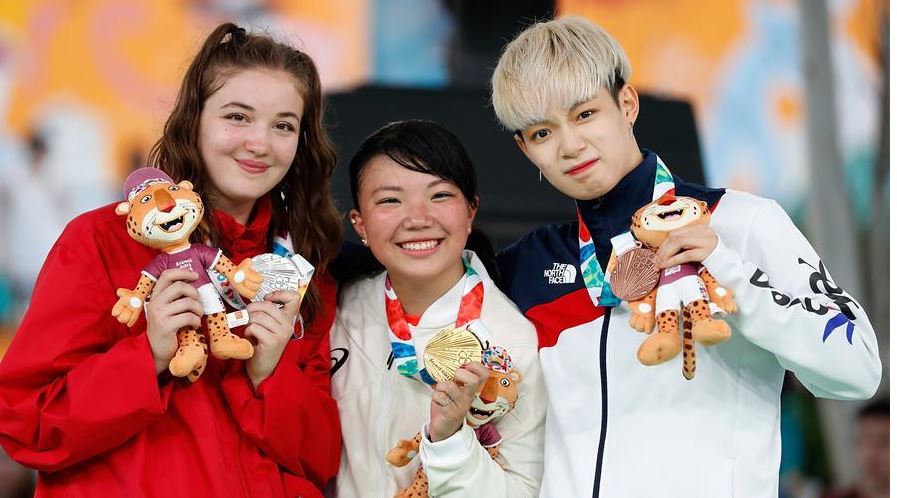 Gold medalist Japan's Ram ( C) poses with silver medalist Canada's Emma (L) and bronze medalist South Korean Yell during the awarding ceremony of the Breaking B-Girls Gold Medal Battle at the 2018 Summer Youth Olympic Games in Buenos Aires, Argentina on Oct. 8, 2018. (Photo: Xinhua)
BUENOS AIRES (Xinhua) -- Japan's Ramu Kawai became the first Youth Olympics breaking gold medalist by beating Canada's Emma Misak in the girls' final of the street dance event here on Monday.
The 17-year-old could not hide her delight after prevailing 4-0 in the decider at the Parque Mujeres Argentinas.
"I'm just happy when I'm dancing - it's a happy thing," Kawai said. "It gives you joy when the crowd is feeling the music and you are feeling the music. There's nothing better."
Misak was also satisfied with her silver medal as breaking proved to be a hit with fans in its maiden Youth Olympics appearance.
"There's a bit of smack talk during the battles, but away from competition it's all love," she said. "I think that makes breaking unique. We genuinely are like family. I'm so happy right now."
South Korea's Yeri Kim clinched bronze in the event.
In the boys' category, Russia's Sergei Chernyshev secured gold by overcoming France's Martin Lejeune 4-0 in the final. Japan's Nakari Shigeyuki took out the bronze medal.