Self care leads to beautiful things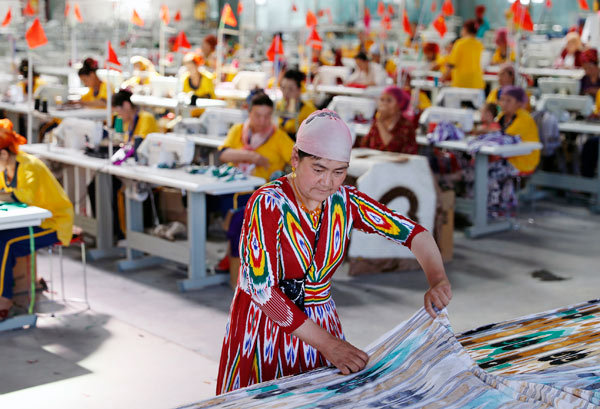 Seamstresses at work at a sewing factory in Xinjiang Uygur autonomous region. (Photo: Xinhua)
From down in the gutter with her marriage and career to a "beauty queen" in northwestern China's Xinjiang Uygur autonomous region, Khemernisa Abdulla has penned an empowering anthem for women with her life experience.
"Women must learn to be beautiful and confident," said Khemernisa, 33. "This is a very good lesson I learned from the setbacks in my marriage and business."
Khemernisa used to be "a plain-looking wife" that her ex-husband resented. But in the past few years, she has bid farewell to a painful marriage and a life of poverty and started a renowned hairdressing salon in rural Xinjiang.
Now she makes about 3,500 yuan ($495) a month from her beauty business. "I am super proud of myself," she said.
Khemernisa was born in a village at the edge of the Taklimakan Desert in southern Xinjiang. The village was mired in grinding poverty, with an average field area of fewer than 0.03 hectares per capita. Most locals made ends meet by raising domestic animals or becoming migrant workers.
Khemernisa did not worry financially before 2014. Her ex-husband was a construction worker in the county with a handsome salary.
"In the past, women in the village had a very low status," she said. "A woman had to be obedient to her husband and do whatever she was told to."
Khemernisa would spend all her time attending the elderly in the family and their child, and never bothered to dress herself up or put on any makeup. Eventually, her husband began to give her the cold shoulder. "He was determined to divorce me and I was devastated," she said. "But I knew I couldn't keep him by my side anymore."
In 2014, she received 20,000 yuan from the divorce and took her daughter to her parents' house. Her parents were poverty-stricken, and her two brothers were still in school. So her then-60-year-old father had to find a job to support the family.
"At that time, I had no salary, and I had my daughter tagging along, so I just cried in my bed," she recalled.
Khemernisa later took the divorce money to begin a little business. She opened a clothes store, but tepid trading soon forced it to close.
Devastated, Khemernisa started thinking about what had gone wrong. "I thought my business failure boiled down to one thing: that I didn't care about beauty and fashion myself," she said.
In 2016, taking advice from her brother who was attending a vocational school, Khemernisa went to study hairdressing and cosmetology. A year later, she mastered the techniques of perming, hair dyeing, facials, neck-care and handcare. She also developed a fashion sense and started to wear makeup.
In 2018, she opened the first-ever beauty salon in her home village. The business won support from local officials, with the village exempting a year of rent for her. The regional women's federation donated beauty machines and beds to her salon, which soon became a "fashion center" in the village.
Dilnar Eziz is a noodle shop owner in the village. She goes to Khemernisa's beauty salon for treatments every week. "I have never done beauty treatments before," Dilnar said. "Now that I am making my own money and paying my own bills, I might as well treat myself a little better."
Business got better at the salon and Khemernisa became more confident. Now she is the breadwinner in her family and even pays the tuition fees for her brothers. In late 2019, her family finally escaped poverty.
Many local women watched her success and are now following Khemernisa's footsteps in creating businesses of their own, said local official Hou Xinyu. "We try to help women realize their potential," Hou said.
Khemernisa said: "Women should be more confident and selfreliant."