Rare exhibit of Munch's art a real scream
Most people have come to know Edvard Munch through his thrilling masterpiece "The Scream," one of the most iconic paintings in art history — second only to Leonardo da Vinci's "Mona Lisa," as was hailed according to the BBC.

"Scream & Respond," an exhibition featuring 47 prints and five oil paintings by Munch on loan from the Gundersen Collection in Norway, is currently on display at the Shanghai Jiushi Art Museum.
Highlights consist of one of "The Scream's" five versions, an 1895 lithograph hand-colored by Munch himself, three works from his well-known series "The Sick Child" and "The Brooch. Eva Mudocci," widely considered his finest portrait.
A rare 1895 black-and-white lithograph of Edvard Munch's "The Scream" and nearly 50 of his prints and oil paintings are currently on display at the Shanghai Jiushi Art Museum.
Over time, Munch was considered more and more disconsolate, frightening and neurotic. Indeed, agitated by pain and anxiety, he poured his raw emotions into "The Scream." Paradoxically, he was also known for his depiction of love, life and the dynamic landscape and rustic people of his homeland.
Born in Norway in 1863, Munch was raised in Christiania (today's Oslo). When he was young his mother died of tuberculosis, so Munch and his siblings were raised by their mentally ill father, adversely affecting the way they were raised. Their father imparted fear of existential issues to his children, which influenced the gloomy tone in many of Munch's works and explains why he carried many repressed emotions while growing up.
"Munch is considered a pioneer of Expressionism and representative of symbolism," said Felix Ma, the exhibition's curator. "Rather than depicting the exterior world in detail, his works look inward to explore interior emotions. The inner spirit of his creations does more than just represent the objective form."
"Every stroke of mine is laid to capture those overwhelming emotions," Munch once said of his work.
Print was a graphic medium in Munch's works. In 1895, he began experimenting with the medium, and continued doing so until his death in 1944.
"Nowhere can one get to know an artist better than in his prints," Ernst Ludwig Kirchner, a famous German expressionist and a Munch contemporary, said.
Not only are the exhibit's artworks eye-catching, Munch's written descriptions are as well, infusing his works with a strong narrative power.
"Woman with Red Hair and Green Eyes, the Sin," a lithograph printed in orange, yellow and green on cream Japanese paper from the early 20th century, is accompanied by this touching prose — "I never loved, I have felt the kind of love that can move mountains and change human beings, the kind of heart-piercing love, the kind of love that drinks blood. But I never could say to anyone: woman, you, I love you, you are my everything."
Due to mental illness and poor health, Munch never married.
While Van Gogh took his own life in 1890 at the age of 37 due to his acute mental illness, Munch faced similar demons after the turn of the century without succumbing to the same fate.
"Munch chose self-salvation through treatment and persistent work, entering a highly productive phase of artistic creation that lasted 30 years," Ma said.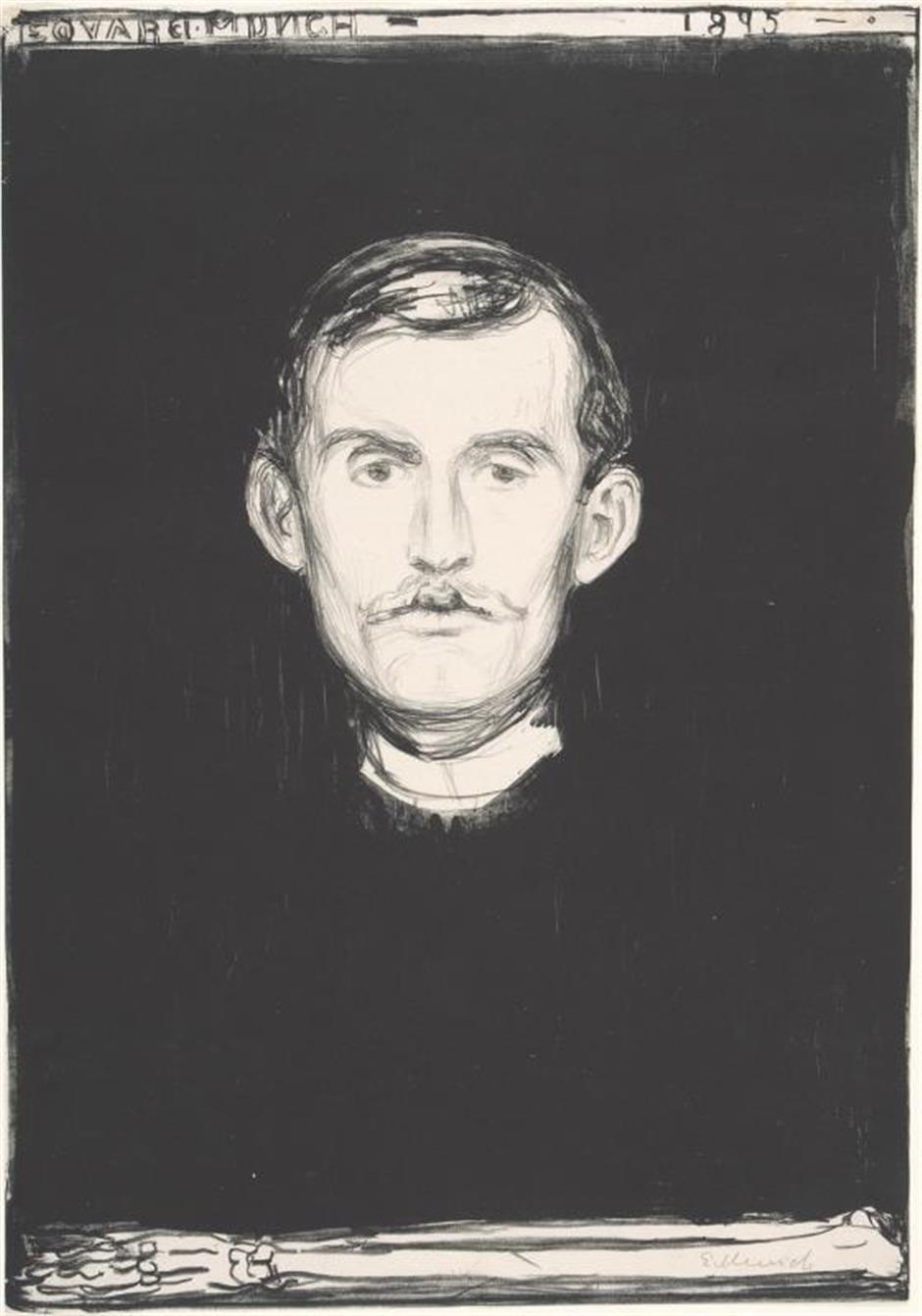 Munch's 1895 lithograph "Self-portrait with skeleton arm"
Exhibition info
Dates: Through January 13, 2021; 10am-6pm
Venue: Shanghai Jiushi Art Museum
Address: 6F, 27 Zhongshan Road E1