China calls for BRI, anti-terrorism cooperation involving Afghanistan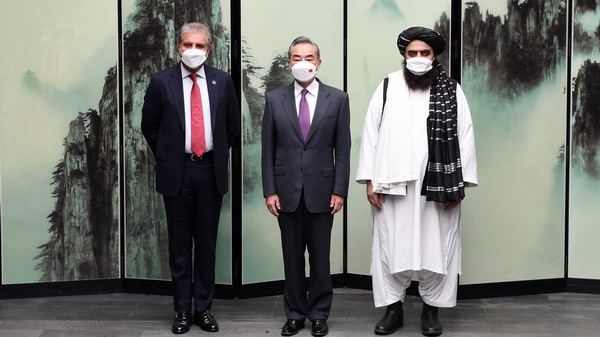 Chinese State Councilor and Foreign Minister Wang Yi on Wednesday called for joint efforts to build the Belt and Road and strengthen counter-terrorism cooperation during a trilateral meeting with the foreign ministers of Afghanistan and Pakistan in Tunxi, east China's Anhui Province.
The three parties should strengthen practical cooperation, promote the extension of the China-Pakistan Economic Corridor (CPEC) to Afghanistan, and help Afghanistan participate in regional interconnection, Wang stressed.
Proposed by China in 2013, the Belt and Road Initiative (BRI) comprises the Silk Road Economic Belt and the 21st Century Maritime Silk Road, and aims to build trade and infrastructure networks connecting Asia with Europe and Africa along and beyond the ancient Silk Road routes. The CPEC is part of the BRI.
Wang also suggested that China, Afghanistan and Pakistan enhance anti-terrorism cooperation, eradicate the breeding ground of terrorism and achieve long-term stability in the region.
Pakistani Foreign Minister Shah Mehmood Qureshi said Pakistan supports Afghanistan in strengthening contacts with the world, adding that his country is ready to continue to help Afghanistan improve people's livelihood.
Amir Khan Muttaqi, acting foreign minister of the Afghan interim government, said Afghanistan is unwilling to rely on charitable assistance for a long time and hopes to strengthen the tripartite cooperation and actively participate in the joint construction of the Belt and Road.
Muttaqi reaffirmed Afghanistan's solemn promise that terrorists will never be allowed to use the Afghan territory to harm the interests and citizens of other countries.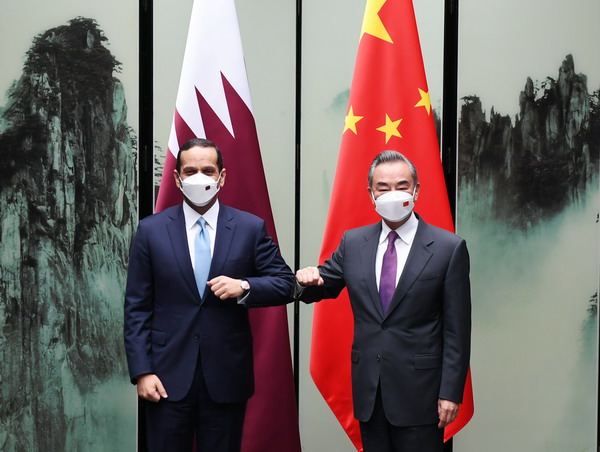 Wang also met with Qatari Deputy Prime Minister and Foreign Minister Sheikh Mohammed bin Abdulrahman Al Thani and Turkmen Deputy Prime Minister and Foreign Minister Rashid Meredov separately on Wednesday.
The diplomats are in China to attend the third Meeting of Foreign Ministers of the Neighboring Countries of Afghanistan.
In his meeting with Mohammed, Wang said the Palestinian question should not be marginalized despite turbulence and volatility in the international arena.
China supports Middle Eastern countries that respect and accommodate each other's legitimate concerns in an inclusive and reconciliatory manner, building a collective security architecture in the region, he said.
Mohammed spoke highly of China's important role on the Afghan issue and highly appreciated its consistent and fair position on the Palestinian question.
The Qatari side attaches great importance to and is willing to actively participate in the BRI, he said, adding that it will continue to facilitate Chinese enterprises to invest in Qatar.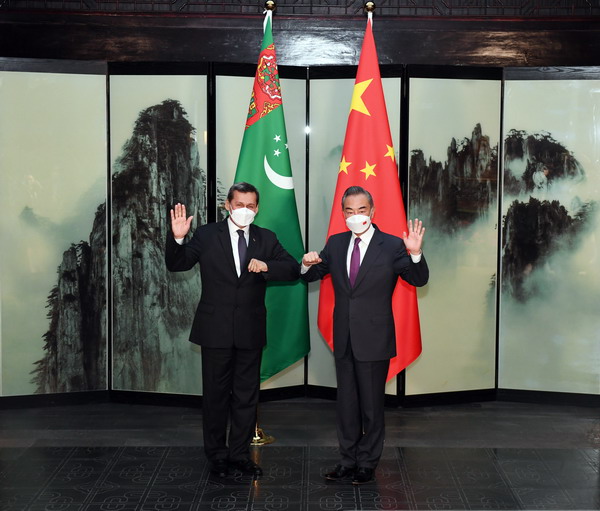 In his meeting with Meredov, Wang said no matter how the international situation changes, China will remain Turkmenistan's "reliable brother and dependable partner."
China is willing to expand collaboration with Turkmenistan in the entire energy industrial chain, expand the volume and scale of energy cooperation and explore cooperation potential in green energy, natural gas utilization and technical equipment, he said.
Meredov said Turkmenistan regards China as the most important partner in energy cooperation and will not change this established position.
Turkmenistan is willing to strengthen the alignment between its development strategy to revive the Great Silk Road and the BRI and lift bilateral relations to a new level, he said.