Charting symphony music evolution in China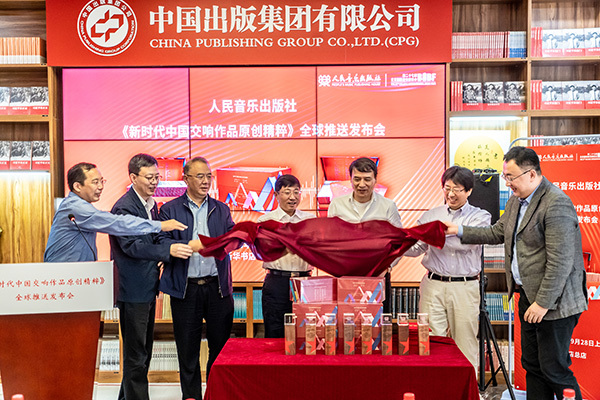 The unveiling ceremony of Selected Original Chinese Symphonic Works in the New Era in Beijing on Sept 28.(Photo provided to China Daily)
With its latest release, People's Music Publishing House is documenting the development of symphonic music in China since 1949.
A total of 110 original symphonic works by 74 Chinese composers, including Ding Shande (1911-1995), Du Mingxin, He Zhanhao, Guo Wenjing and Zhao Lin, have been recorded in the compilation Selected Original Chinese Symphonic Works in the New Era.
Two renowned Chinese composers, Zhao Jiping and Ye Xiaogang, are the chief editors of the compilation, which is comprised of two sections: To the New Era and To the Motherland.
It's the largest single collection of original symphonic works from China, in terms of the number of musical works and composers involved in the project, according to Ye, who is also the president of Chinese Musicians' Association. Alongside the recordings, introductions to each composer, as well as analysis and background information of each piece are included in the compilation. The compilation, written in Chinese and English, seeks to introduce Chinese composers to an international audience, Ye adds.
"Western classical music started taking root in China less than 100 years ago and has achieved a lot, especially since the reform and opening-up began (in the late 1970s). The works we've selected for the compilation reflect and document the changes in the country over the past 70 years," Ye said in Beijing on Sept 28 during the compilation's release ceremony. "Selected Original Chinese Symphonic Works in the New Era not only showcases the achievements we've made in classical music, but also bears witness to the development of the country."
To introduce the selected symphonic pieces to audiences, 10 live concerts were staged across China from May 2019 to February, visiting Chinese cities, including Beijing, Qingdao of Shandong province, Shanghai, Harbin of Heilongjiang province and Shenzhen of Guangdong province. A number of Chinese symphony orchestras performed during the tour, including the China National Symphony Orchestra, the Shanghai Symphony Orchestra and the Zhejiang Symphony Orchestra.
Chinese composer Tang Jianping and his three original music pieces-pipa concerto Chun Qiu, percussion concerto Cang Cai and symphonic piece Lin Xiang Jie-are included in the compilation. The three musical pieces combine traditional Chinese musical instruments, including pipa, gong and cymbal, with Western symphonic music.
"The originality and creativity of Chinese composers has been among the important changes in China's classical music scene over the last four decades. The merger of Western classical music and Chinese culture has made the works of Chinese composers unique," says Tang, who, in 1978, started to study composition at Shenyang Conservatory of Music before moving on to further his musical study at the Central Conservatory of Music in 1985.