'Walking Dead' star trades arc of weapons for arc of story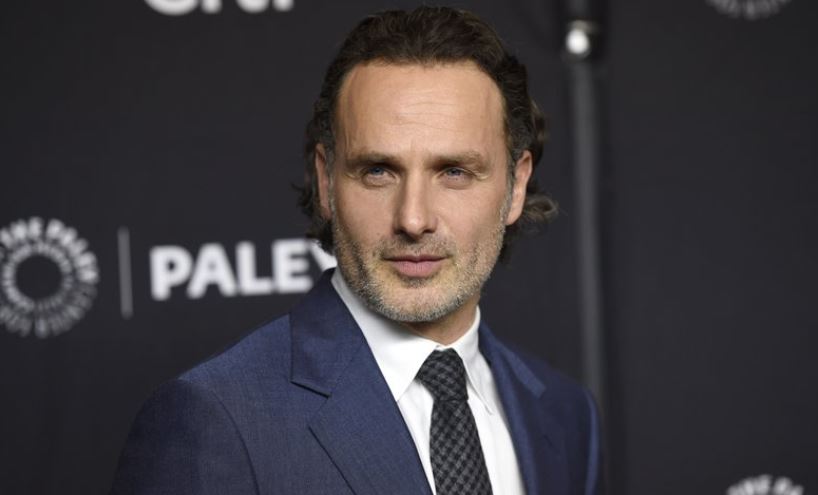 In this March 17, 2017 file photo, Andrew Lincoln attends the 34th annual PaleyFest: "The Walking Dead" event in Los Angeles. Lincoln has wrapped his final scene as an actor, and the show's upcoming season will be the last for his character, Sheriff Rick Grimes. (File photo:Chris Pizzello/Invision/AP)
Andrew Lincoln will no longer evade the arc of a knife, a bullet or a bloody baseball bat wrapped with razor wire on the Georgia set where AMC's "The Walking Dead" is filmed.
The show's upcoming ninth season, which premieres Sunday night, will be the last for his character, sheriff's Deputy Rick Grimes, and Lincoln has wrapped his last scene.
Now he's hoping to direct an episode of the show, so he's "shadowing" one of the directors during filming near the small town of Senoia.
"I've always had a fascination with the language of film," he told The Associated Press in a recent interview. "And I'm a control freak. I have strong opinions aesthetically, and maybe it's time for me to own up to it and see if I can, you know, put my money where my mouth is."
His trademark humor finds its way into many of his answers to questions about his future.
"You're interrupting my shadowing!" he says. "There's lessons being taught out there right now and I'm not there. Which way to point the camera is probably being taught at the moment."
The drama sometimes follows the story lines of a comic book series that debuted in 2003, but also veers from that narrative to create new tales. It's built around a cast of characters struggling to survive in a world that's fallen into chaos and become infested with zombies they call "walkers." The humans also break into factions and sometimes wage war with one another.
As the show enters its final season with Lincoln's character, he speaks lovingly of the "less-is-more" aspect of the upcoming season.
"There's less gas, there's less guns, there's less food," he says. "But we've got more tension as a result, and thrills and spills. If something goes wrong in this landscape that we inhabit now, then we're in serious trouble."
Lincoln says "The Walking Dead" has always been an ensemble show that's not dependent on any one character.
"The themes this season are absolutely what we set out to achieve in the first season," he said. "It's a story of hope, family and friendship. People with nothing in common realizing that they have everything in common."
AMC President Charlie Collier said "what started as the Rick Grimes story really became a story about a group of people helping each other survive and having each other's backs in the worst of conditions."
Collier recalled when Lincoln's character rode on horseback into a destroyed and deserted Atlanta and then waged war on the downtown streets.
As Lincoln prepared to film his final episodes, he said he felt like he was watching a cruise ship slowly pulling away from him.
"On this cruise ship, there are the lights and the dancing and I can hear the clink of the glasses, but I'm sort of bobbing around in the shallows of the sea as it drifts away, you know, it continues and it continues in an amazing fashion."
Much of the show is filmed in Senoia, a small town 35 miles southwest of Atlanta. It has helped fuel the film industry in Georgia, which has boomed in the past decade.
"Atlanta was not a place I knew," Lincoln said, "and over the last decade it's become the new hub of the industry."
He had always envisioned coming to the United States from his native England "as a sort of gateway to literally trying to raise my profile so I could keep working in America."
"It kind of worked," he says. "It went beyond anybody's expectations — this show and the success of this show — it was always with a future to working here."
Lincoln lives in an Atlanta suburb, where the stories about him include one from a Halloween evening, where he ran into a foreign exchange student dressed in a zombie costume. He was wearing a mask so the boy, who was by himself, didn't recognize him.
"Then I took my mask off, and he absolutely freaked out," Lincoln said. "He was just a sweet kid, and we just thought, 'Well, what are you doing, come with us.'"
The story has parallels to the show, where the characters often collect stragglers in forests or along country roads. That's what Collier says will continue to drive the show after Lincoln's character disappears: The story of a group of people trying to survive.
"You'll see others rise," he says. "There's just so much more story to tell."