Kazak restaurateur's passion produces cultural harvest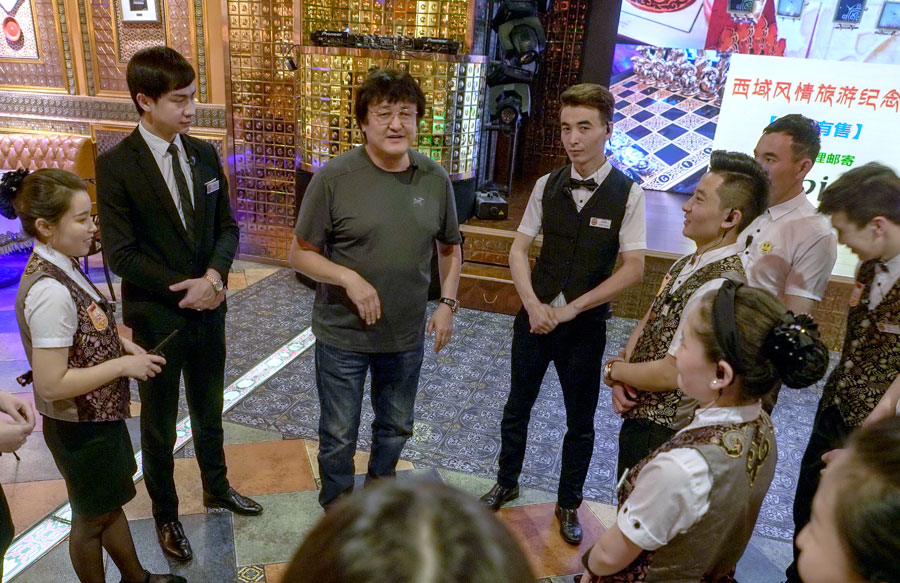 Hellat Deleilikhan (center) shares his business stories with employees at his restaurant in Urumqi, Xinjiang Uygur autonomous region, in May. (Photo: Xinhua)
URUMQI-Music interrupts the conversation of contented diners as dancers dressed in traditional Kazak and Uygur costumes invite the restaurant's customers to put down their cutlery and dance. The waiters and waitresses set down their trays and join in.
Backstage, 49-year-old restaurateur Hellat Deleilikhan watches. It is the highlight of his busy day.
"I feel happy watching my customers join in," he said. "They enjoy themselves, and I'm satisfied. I have worked for so many years to build a place just like this. It is the wheat that I reap."
It is not unusual for Hellat, an ethnic Kazak from the Xinjiang Uygur autonomous region, to drop farming terms in this way. In fact, it's in his blood.
For centuries, the Kazak people were nomadic herders who drove their cattle and sheep across the pastures of Xinjiang. They shunned the idea of commercial activity, even going as far as regarding business as a disgrace.
"Fifty years ago, it was shameful for a Kazak to even sell a cup of milk tea to someone else," Hellat said. "If someone ate at your house and you charged money for that meal, other Kazaks would look down on you-it would be worse than death. But the times have changed, and now it is OK to earn money from your hard work."
Today, more Kazaks have left their flocks and yurts to lead modern lives with access to education and health service.
Growing up in a city, young Hellat excelled in the arts, but he took his parents' advice and majored in Russian at college. That led to a respectable job in the local administration for foreign trade.
The job meant travel. A lot of travel, to far-flung countries where he developed an obsession-restaurants. He drank up the exotic atmosphere, admired the unusual decorations and reveled in the amazing performances. The more places he saw, the more he knew that he wanted a career that he was really passionate about.
In 2001, he quit his job and opened his first venture, a Kazakstyle milk tea shop in a tiny 43 square meter space in Urumqi, the capital of Xinjiang.
He decorated the shop like the cafes that had impressed him and named it "Father of Apples" after the saying "the three apples that changed the world". The first was the one eaten by Eve, the second fell on Isaac Newton, and the third was created by Steve Jobs.
Hellat was determined to find his own apple that would change his world.
In 2007, the tea shop was transformed into a restaurant, and singers and dancers were hired to perform.
"It's not about making more money," he said. "For me, my restaurant is like a container which houses all my hobbies, from decoration design to singing and dancing. I've realized a childhood dream."
The restaurant soon moved to a 800 sq m space, then 1,600 sq m and again to 2,800 sq m.
"I often joke that we Kazak people traditionally lead a nomadic life," Hellat said. "We live in a place for just a few years and will then migrate to new pastures. In my catering business, our moves are about business and the need to expand."
He said that instead of taking classes or reading books on management, he mainly relied on his intuition. "I stick to just one principle-follow my heart."
After a decade of expansion, Hellat opened a second restaurant. Both restaurants are now household names in Xinjiang.
Diners sit in surroundings that are opulent and full of character as they enjoy some of the best food on offer in Xinjiang. And then, of course, there is the traditional singing and dancing.
Dina, also a Kazak, studies dance at Xinjiang Arts University and works part-time at Hellat's restaurant.
"It's my dream to become a dancer," she said. "This job allows me to improve my movements and learn how to interact with the audience."
Hellat said: "Sheep and cattle are inseparable parts of our history and culture. But we need to keep up with the times and lead a modern life. We Kazak people can put down the whip and live modern lives. It's a good thing."
He still loves to travel and credits his exposure to many different cultures for his belief that all ethnic groups should be inclusive.
"Cultures don't have boundaries," Hellat said. "As long as it's good, we like it. So, I believe cultures can blend. It's like pollen. Cross-pollination can make the flowers bloom so much more beautifully."