Apple picking for an easy Golden Week getaway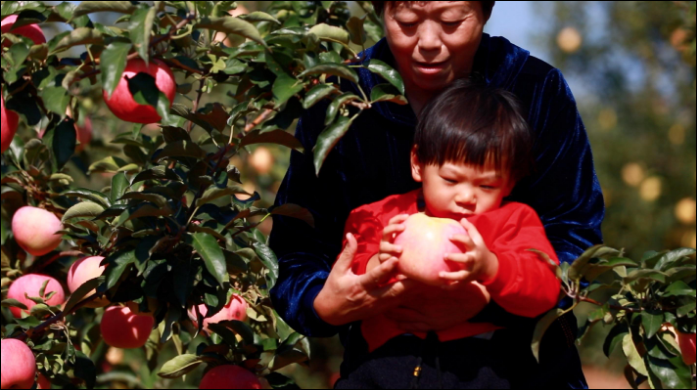 A grandmother and her grandchild enjoying apple picking in an orchard in China's northeast. (Photo: CGTN)
More than halfway through China's Golden Week holiday, many are wondering how to spend the rest of their free days. Some Chinese are ditching tourist traps like Tian'anmen Square and the Great Wall, and partaking in a popular western autumn activity instead. Apple picking, a popular ritual in the west is alive and well during China's seven-day National Day holiday.
One tourist said that she enjoyed it because her family could both stroll the orchard, and take some of the apples they picked home.
Another said that traveling to popular tourist spots during the Golden Week could be troublesome with the congested traffic and crowds.
An orchard owned by Dataishan (DTS) Fruit in northeastern China's Suizhong County is holding its first ever apple harvest festival this year for the National Day holiday.
For about five US dollars, it's all you can pick and eat while you're there.
One of the employees at the orchard said that people should pick apples grown towards the sun, marked by red stripes and a rough surface.
Those with rough surfaces are said to be sweeter and juicier. What visitors pick but don't eat, they can take home for about 1.50 US dollars per kilogram. Experts say that's comparable to supermarket prices – and much better for local farmers, compared with selling apples to wholesalers.
Wang grew up in this area, and has worked at the orchard for over two decades.
In the coming years, the orchard plans to expand the picking area, and include services, like processing apples into jam and juice.
He added that they have been planning to establish sightseeing spots that reinforce the apple picking experience as well as bringing in secondary and tertiary industries to further boost farmers' profits.
Since the apple harvest festival kicked off on the first day of this year's National Day holiday, the orchard has attracted over 10,000 visitors each day.