IBBY announces Hans Christian Andersen Award winners
chinadaily.com.cn
1588746997000
The International Board on Books for Young People livestreamed this year's Hans Christian Andersen Award ceremony on Monday, with Jacqueline Woodson of the United States winning as author and Albertine of Switzerland as illustrator.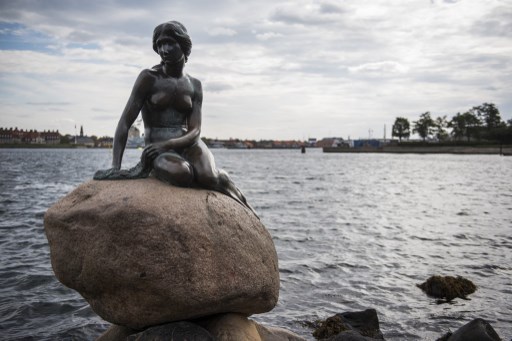 The bronze statue "The Little Mermaid" is seen at the harbour in Copenhagen on October 9, 2015. (Photo: AFP)
Woodson has a prolific body of writing from picture books to young adult literature, all of which feature lyrical language, powerful characters and an abiding sense of hope, according to the board.
Albertine creates books with multiple levels of interpretation, with drawings made with infinite precision that are lively and full of humor.
The Hans Christian Andersen Award is regarded as the most distinguished international honor for children's literature. Cao Wenxuan became the first Chinese author to receive the award in 2016.
At the livestreamed event, IBBY also announced the winners of the IBBY-iRead Outstanding Reading Promoter Award, which went to Zhu Yongxin from China and Marit Tornqvist from the Netherlands.
The award has been established by IBBY, with the Shenzhen iRead Foundation as its sponsor, to encourage commitment to the cause of reading promotion.
Zhu has devoted his life to research and activities related to reading promotion, including training and programs for children in rural areas and children with special needs, the vulnerable and those living in remote areas of China.
Tornqvist is a writer and illustrator who has developed reading programs for children focused not only the story, but also on the experience of reading itself and on encouraging children to narrate and illustrate their own stories.
According to IBBY, the winner of the IBBY-Asahi Reading Promotion Award is Casa Cuna Cuenteros of Buenos Aires, Argentina. Casa Cuna Cuenteros is a group of passionate volunteers who carry out reading and storytelling activities in a children's hospital in Buenos Aires.