Tibetan Buddhist monks, nuns visit serf liberation museum
Global Times
1555954358000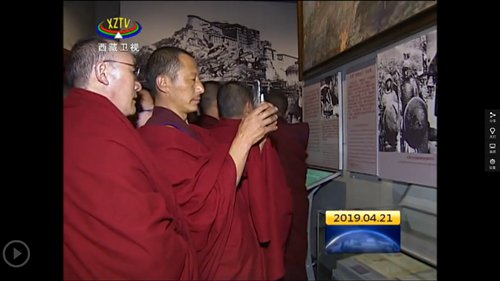 Buddhist monks and nuns at the Tibetan serf liberation museum take photos of documentaries recording the dark history before the democratic reform in Tibet in 1959. (Photo: Tibet TV)
In honor of the 60th anniversary of the democratic reform in Tibet, Tibet Buddhism College in Lhasa, Southwest China's Tibet Autonomous Region has organized more than 900 students including Buddhist monks and nuns to visit the Tibetan serf liberation museum for patriotic education.
The event was to educate the monks and nuns to remember the contribution of the Communist Party of China for Tibet and to confirm their confidence of following the Party, as the museum showed the dramatic changes in the region before and after democratic reform in 1959, Zhang Liangtian, Party secretary of the college, told the Global Times on Monday.
Many students were born after the Tibet's democratic reform and the visit could inform them about Tibet before the reform and enhance their patriotism, according to Zhang.
The museum opened on March 28, the Tibet Serf Emancipation Day, with 165 precious historical documents, 299 historical objects, 331 pictures and 4 large scenes, to show the dark history before the reform and the achievements that Tibet has made since 1959.
According to the report of Tibet Satellite Television on Monday, Buddhism students were filmed taking photos of the historical relics and documentaries in the museum.
"When I saw the display of three clay-sculptured people live in a dark and narrow room, I felt the contrast with old Tibet. Our life now is happy. I can feel the warmth of the Party and our country," said Choskyi Nyima, a student of the Buddhism college, said in the report.
Another student named Cuocheng Zama said thanks to the Party carrying out the democratic reform, nuns can enjoy the chance of learning Buddhist knowledge, noting that before reform men and women in Tibet were unequal in many aspects.
The government has supported monks and nuns with preferential policies in many fields including endowment and medical insurance, and minimum living subsidy, student Tenzin Wangmo was quoted by the media as saying.
"I'll study harder the 'four standards' (which asks them to love the Party and China) to be a good nun," said her.
Every student wrote an article after visiting the museum, with most expressing their loyalty to the nation and the Party, and firm opposition to splitting the country, said Zhang.