Protected cranes find refuge in Tibet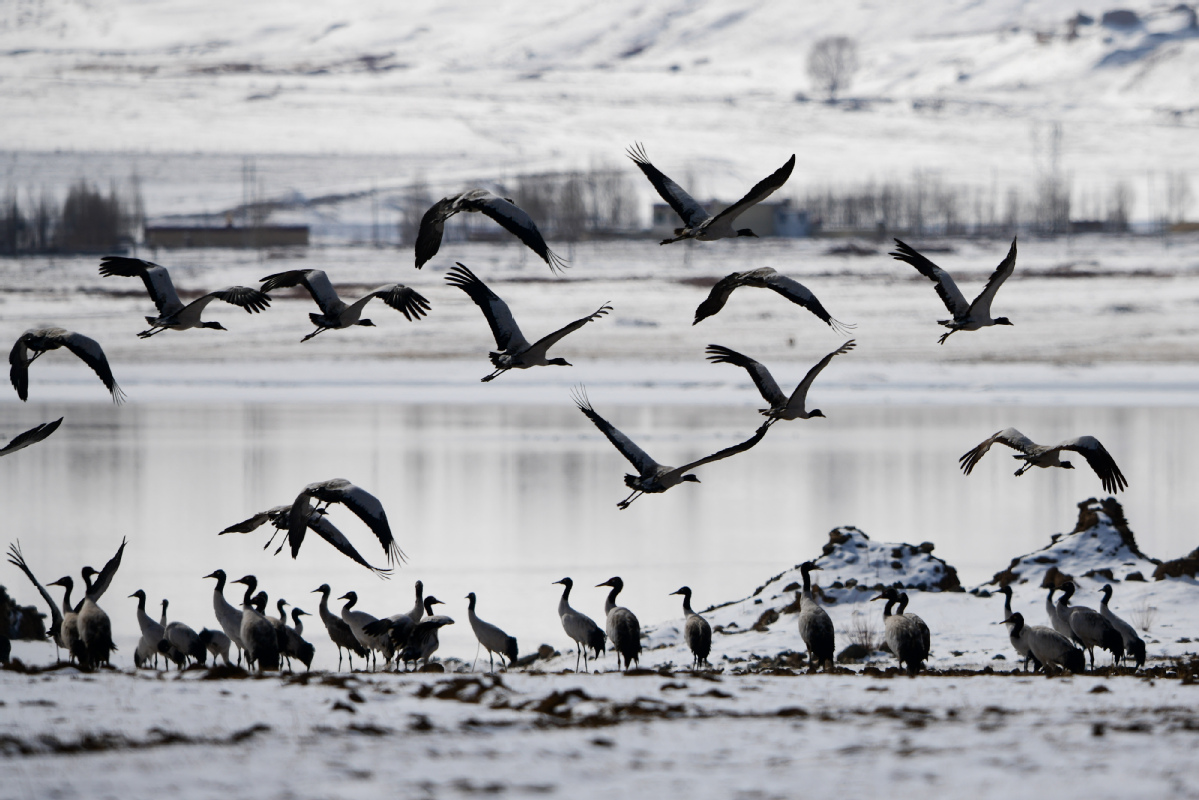 As distant snow-capped mountains are bathed in early morning light, ruddy shelducks and black-necked cranes begin to sing and look for food in the fields.
At around 8 am, wildlife patrol officer Tenzin, 53, dons his jacket with the red armband and rides off on his motorbike to check on the cranes in Lhundrub county of the Tibet autonomous region.
A first-class nationally protected species in China, the crane is also categorized as vulnerable by the International Union for Conservation of Nature, and Tibetan people regard the birds and their habitat as harbingers of prosperity and auspiciousness.
Protecting birds such as the black-necked cranes is part of Tenzin's work during the winter months each year, which he regards as a glory. He enjoys watching all sorts of birds, but especially the cranes.
"I am pleased and proud to be a protector of black-necked cranes, and I have been treating them as if they were my own children over the past decade," chinanews.com quoted Tenzin as saying on Sunday.
"I saved the lives of four black-necked cranes in the past decade, and I fostered one in my home for about eight months," he added.
Tenzin's hometown area is dotted with open farmland and a huge reservoir amid deep mountains, all of which provide safe harbor for the birds.
Every year, around October, the black-necked cranes migrate from other places to spend winter in Lhundrub county. They fly away the following March.
During their stay in his hometown, Tenzin makes sure the cranes do not get attacked by stray dogs — although sometimes it's hard to prevent packs of dogs from attacking. The dogs work as team and will suddenly charge from different directions.
To allow the cranes a safe winter stay, the Lhundrub county government has established 10 feeding sites with adequate forage for the winter.
Having done the work for years, Tenzin's family members are masters at protecting the cranes and rescuing injured ones. Every time fellow villagers find an injured crane, they call Tenzin to the rescue right away.
Tenzin's role reflects part of the government's effort to protect wildlife in Tibet. The black-necked crane population has increased from fewer than 3,000 birds in 1995 to more than 10,000 today.
Since 2016, the regional government has provided 700,000 ecological jobs for rural residents, and increasing numbers of them have been employed to work as wildlife patrol officers.