Female candidates across US stress gender, motherhood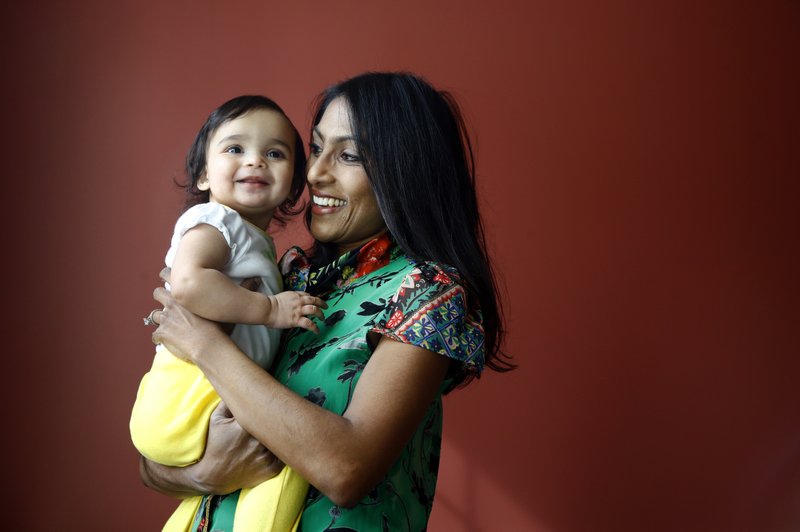 (Photo: AP)
Women running for governor in Wisconsin and Maryland breastfeed their infants in their campaign videos. Another in Georgia tells voters that "the folks who have held the office of governor don't look like me."
The record number of women expected to run for office this year are already breaking barriers, upending traditional campaigning by emphasizing their gender as they introduce themselves to an electorate they hope is eager for change.
"Some say no man can beat Larry Hogan," Maryland Democratic candidate Krish Vignarajah says into the camera as she breastfeeds her daughter. "Well, I'm no man. I'm a mom, I'm a woman, and I want to be your next governor."
Experts are predicting a historic wave of female candidates, driven in part by Democrats frustrated over the election of President Donald Trump and actions by his administration and Republicans in Congress on issues such as health care and immigration. The Women's March, the #MeToo movement and the surprising success of women running for the Virginia Legislature in 2017 have kept the momentum.
Vignarajah, a lawyer and former policy director for Michelle Obama, is one of seven Democrats and the only woman running in the Maryland gubernatorial primary. She said the 2016 presidential election was a "rude awakening of what happens when we become complacent" and that her video was designed to show the everyday life of many moms.
"Historically speaking, women were perhaps more hesitant to highlight their womanhood," said Vignarajah, a Sri Lankan immigrant. "For me, I think it's an asset."
The candidates say their message to voters is that electing more women to office is not merely about representation. It's about a change in priorities so that more emphasis is placed on issues such as education, health care, early childhood development, workplace equality and paid family leave.
"I would like our state to be the best place to raise a family and the best place to grow a business, and I think we can achieve that," said Kelda Roys, a former state lawmaker seeking the Democratic nomination to challenge Wisconsin Gov. Scott Walker, a two-term Republican.
In her ad, Roys highlights her efforts in the state legislature to ban the chemical known as BPA from baby bottles and cups in the state. In the middle of her speech, her youngest daughter begins crying and Roys discreetly lifts her sweater to begin breastfeeding. Roys says she didn't intend to have that moment as part of the video but realized after she saw an initial outtake that it made sense.
"This is part of who I am, and I think it's an honest portrayal of what my life is like," Roys said. "Men running for office have always enjoyed pretty wide latitude to present themselves as whole people, where for women there has always been pressure to conform to a pretty narrow archetype. And I feel like that's changing."
Whether all this enthusiasm translates into a sea change in the number of women elected to office remains to be seen. Currently, women account for a fifth of all US representatives and senators, and one in four state lawmakers. There are six female governors.
So far, 220 women have filed to run for the US House or Senate this year, with candidate filing deadlines still pending in half the states, according to the Center for American Women and Politics at Rutgers University. The record is 334 female candidates set in 2012. The center's experts say nearly 500 women are expected to run for House and Senate this year.
"For women, the expectations of gender and candidacies have often conflicted," said Kelly Dittmar, an assistant professor of political science at Rutgers. "They spent a lot of time talking about how tough they are, how strong they are and how qualified they are to hold office."
But female candidates have grown more comfortable in recent years branching out, Dittmar said. In New Hampshire's hotly contested US Senate race in 2016, both Republican Kelly Ayotte and Democrat Maggie Hassan highlighted their roles as mothers and featured their children prominently in ads. Ayotte's daughter narrated a campaign ad highlighting her mom's credentials.
Some of this year's ads are intensely personal. Before losing her primary bid for Illinois' 4th Congressional District, Democratic candidate Sol Flores spoke about how she fought off a sexual predator as a child and how she has dedicated her life to helping children at risk.
Katie Hill, one of several Democrats seeking to challenge Rep. Steve Knight in California's 25th Congressional District, has a nearly five-minute video on her website detailing the time when she was 19 years old and considered having an abortion before suffering a miscarriage.
"No one can really understand what it's like to be faced with that kind of a choice, and it's a decision that only a woman in that situation can make," Hill says in the video. "The government most certainly can't make it for her."
In a recent video, Georgia gubernatorial candidate Stacey Evans is shown walking the halls of the state Capitol holding hands with her young daughter as she prepares to file paperwork to qualify for the Democratic primary in May. The daughter of a single mother who grew up poor in rural Georgia, Evans says her top priorities are making sure children of all backgrounds have access to quality early childhood education, a strong public school system and financial support for college.
"I don't have to worry about my daughter being taken care of during the day, but a lot of mothers have that struggle," Evans said. "I want to make sure that all families have access to the resources they need to live a high-quality life and to go out and be successful."