'Matilda The Musical' to come to China for nationwide tour
Global Times
1542900173000
Chinese people are huge lovers of music home and aborad. Even the most niche of music genres from other countries and regions can find fans in China.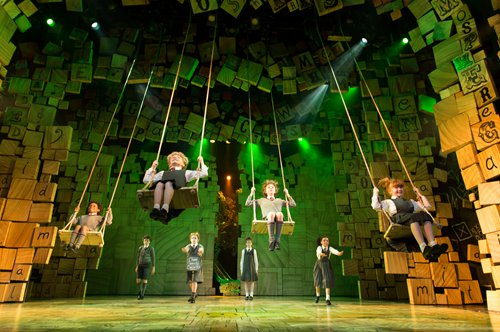 Promotional material for Matilda The Musical (Photo: Courtesy of Seven Ages)
The same goes for musicals, as a number of original musicals from the West have established huge fan bases in the country. Ever since Les Misérables made its mainland debut in 2002, the number of Chinese musical fans has reached the millions with one hit musical staged after another.
Next year, these fans will have the opportunity to experience "one of the best British musicals ever" for themselves as the award-winning Matilda The Musical will kick off a tour of 13 Chinese cities in June 2019.
The tour was announced on Wednesday in Beijing by the musical's organizers - the Poly Theater Management Company, Seven Ages and the Royal Shakespeare Company.
"It still thrills me, and I've seen it 200 times," said Andre Ptaszynski, the musical's executive producer, at the event.
"This is a story about strength and courage, about living the fullest life you can. Matilda is a genius. She reads Dostoyevsky and Dickens at the age of 5. She teaches herself Russian at the same time. She is smarter than everyone around her and never watches television. She is full of mischief and fun and kindness."
Long, difficult road
"This is not a children's show, not even a family show. This is a great musical loved by grown-ups who are touched by its honesty, its humor and values," Ptaszynski noted.
Among the millions that have been moved and inspired by the musical is Qian Jiamin, CEO of Seven Ages. Qian noted that she was deeply touched by the show when she saw it in London in 2012 and decided there and then that she would bring it to China no matter what it took.
"She is desperate to bring it to China to your audiences. It seems to be really hard thing to do," Ptaszynski said, recalled that Qian "saw the show again and again to work out how she might do it."
"I believe it must be the best musical of our times. Making this happen though was easier said than done," said Qian, who finally met Ptaszynski two years after seeing the show in London.
"I remember that we met at a place called The Ivy Club, near the Cambridge Theater. A lucky sign for me since my English name is Ivy. However, I didn't expect at the time that we would be working on it for the next five years," she added.
According to Ptaszynski, Qian flew to met with him while the show was on Broadway in New York and also while it was being performed in Sydney, Australia.
"We did lots of budgets and tried to work out ways to bring the show here. But it was very hard. Finally with our producing partner GWB, we worked out how to do what she wanted," he said.
It took Qian almost seven years to finally bring the show to China. Due to the Royal Shakespeare Company's high standards when it comes to quality, they are always very careful when in selecting partners.
"It is understandable. Due to their patience and care, they spent 10 years to produce Matilda The Musical. No wonder it won a record-setting seven Olivier Awards in 2012," Qian noted.
Chinese localization
In Qian's opinion, the introduction of Cats to Japan had a huge impact on the development of the country's musical industry, while in South Korea The Phantom of the Opera caused its musical industry to enter a decade-long golden era. Now, when it comes to China, "If there is any musical that can spark development here, it must be Matilda," she said, going on to announce that a Chinese version of the show will be launched right after the end of the English version's tour. This will mark only the second time the musical has been adapted into a foreign language.
Localization has always been a successful way to maintain the popularity of Western musicals. The Chinese adaptation of Mama Mia!, which debuted in 2011 and is still touring the country, is considered to be one of the best success stories.
Working with Poly Theater Management, Seven Ages has produced Chinese versions of The Sound of Music and Man of La Mancha. According to Qian, Seven Ages will also launch a Chinese version of the French musical Les Choristes in 2019.
"Exchange between culture and entertainment between China and the West is nothing new, but we really look forward to bringing you Matilda The Musical," Ptaszynski emphasized.