Chinese netizens hail Awkwafina for making history at the 2020 Golden Globes
Global Times
1578315197000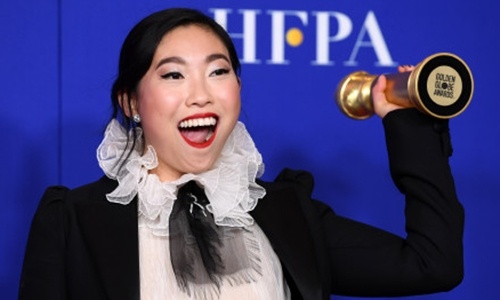 US actress and rapper Awkwafina won the award for Best Actress in a Musical or Comedy at the 77th Annual Golden Globe Awards on Monday. (Photo: Courtesy of Sina Weibo)
Hundreds of thousands Chinese netizens took on Chinese social media for hailing Awkwafina winning the Best Actress in a musical or comedy category at the 77th Annual Golden Globe Awards on Monday, the first Asian actress to win the category.
The American actress and rapper made the Golden Globes history for her excellent performance in the American comedy-drama film The Farewell. The film is directed by Wang Lulu, a Chinese-American film director, writer, and producer, and is based on the story happened on Wang. The film tells the story of a Chinese-American family that uses a wedding as an excuse to get the family back together to see their grandmother, who was diagnosed with terminal cancer, without her learning about her diagnosis.
"Dad, I told you I'd get a job," Awkwafina said at the award ceremony with a trembling voice, moving many Chinese netizens who said that they were touched by her speech.
"It is so hard to get the award as an Asian actress and she made it! We are so proud of you," one Chinese netizen posted on China's Twitter-like Sina Weibo.
"She definitely deserves the award! I first learned about her because she was a female rap singer, while now she has become a film queen. What a talented Asian woman!" another netizen wrote on Sina Weibo.
"Instead of complaining about discrimination, it was better to use her own strength to fight for equality, and Awkwafina made it. Although she does not have an outstanding appearance, she responded to those queries with her excellent performance," one fan wrote on Sina Weibo.
However, some Chinese netizens were still opposed her appearing in the upcoming Marvel film Shang-Chi. The film has been controversial among Chinese netizens as in the original comics the main character Shang-Chi's father was Fu Manchu, a major Western stereotype for Asians.
"Although she won the big prize, I still cannot accept her acting in the controversial film Shang-Chi," one netizen commented.