HK-style hotpots proving to be popular this winter
As the weather chills, diners in Shanghai traditionally head to hotpot restaurants, and the Hong Kong-style hotpots are this winter's top choices.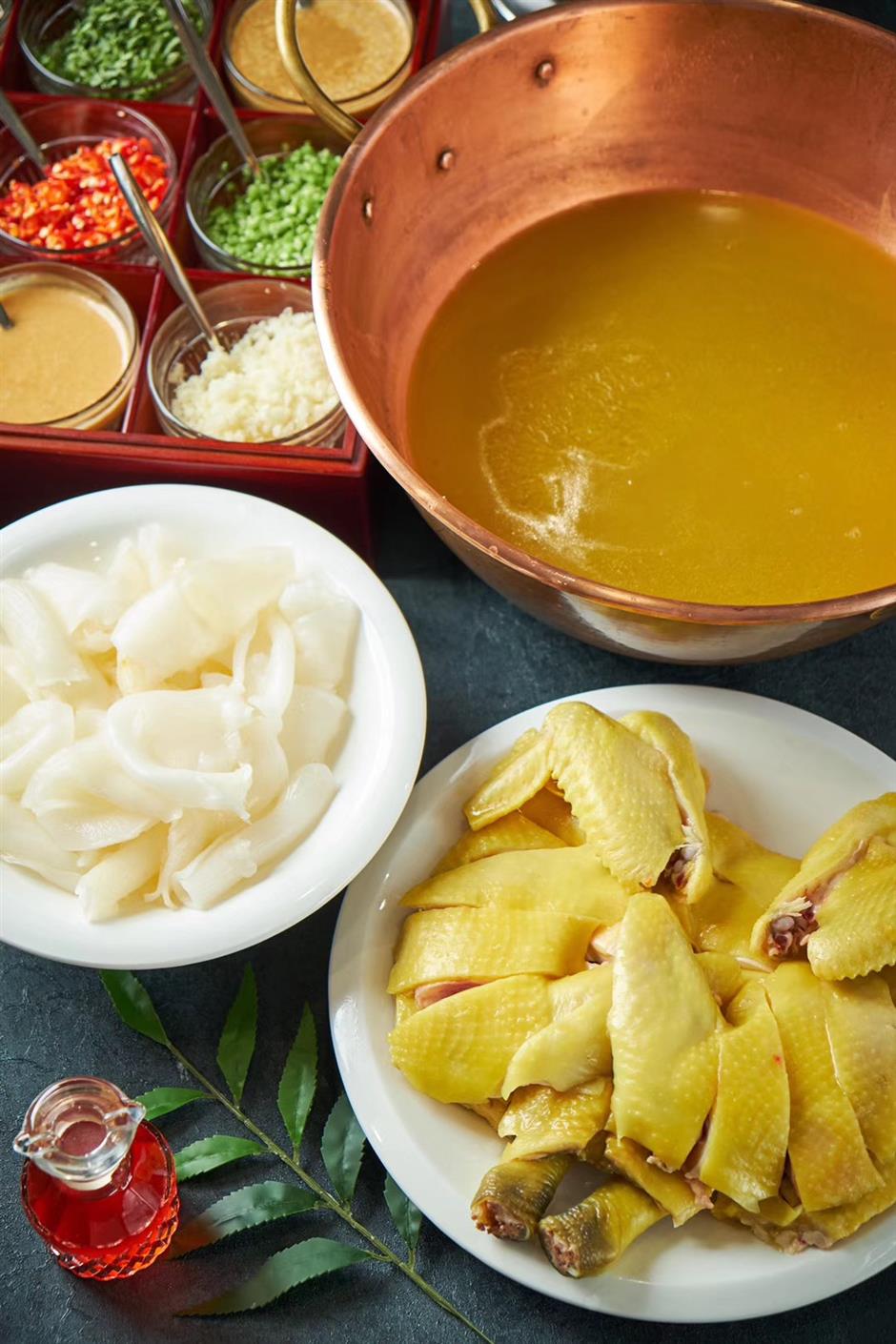 The signature chicken and fish maw soup is definitely a crowd pleaser. (Photo: Shine.cn)
After the craze of high-end hotpot purveyor Lou Shang, there are a few similar venues that have opened up with friendlier prices and easier bookings.
For someone like me who dislikes the crowds and all the rowdy hotpot spots or the crazy line-ups for a meal, I recently found an ideal place for a comfortable winter meal.
Man Yuan is located on the second floor of a street-side building at the corner of Middle Fuxing Road and South Xiangyang Road with a Hong Kong retro style logo outside.
The interior exudes retro nostalgia with classic Cantonese songs and TV series playing as the background.
Several round tables are nicely arranged in the rather small and intimate dining space.
It's the kind of place you can have both flavored broth as well as fresh seafood sashimi and many delicious Cantonese plates as the Hong Kong-style hotpot is keen on offering high-quality ingredients — from seafood to meat.
Before starting the hotpot, try the Hong Kong style appetizers, including the signature street food snacks such as deep-fried fish skins, deep-fried milk roll, soft-yolk of preserved eggs, and boiled sea whelk in spicy wine.
There are plenty of options to order and but the stars are still the hotpot broths.
The signature chicken and fish maw soup is definitely a crowd pleaser. Boiled together for hours, you can simply enjoy the golden-colored thick soup itself before putting all the different ingredients into the soup.
The fish maw for many Chinese is considered a natural form of Botox for its collagen-boosting properties.
Both seafood and beef are specialties here.
Alaskan king crab, extra big banded shrimp, wild Dalian abalone, Australia Abalone, Japanese long-legged crab are available for seafood lovers, while specialty black beef steak, Angus beef ribs dices, and the signature house beef all worth the hot pot experience.
Info
Opening hours: 1am-2pm, 5pm-10:30pm
Tel: 5436-3713
Address: 2/F, 1251 Fuxing Rd M.,Shanghai
Average price: 360 yuan
Cover image: VCG