Human skull unearthed near north China border confirmed to be 10,000 years old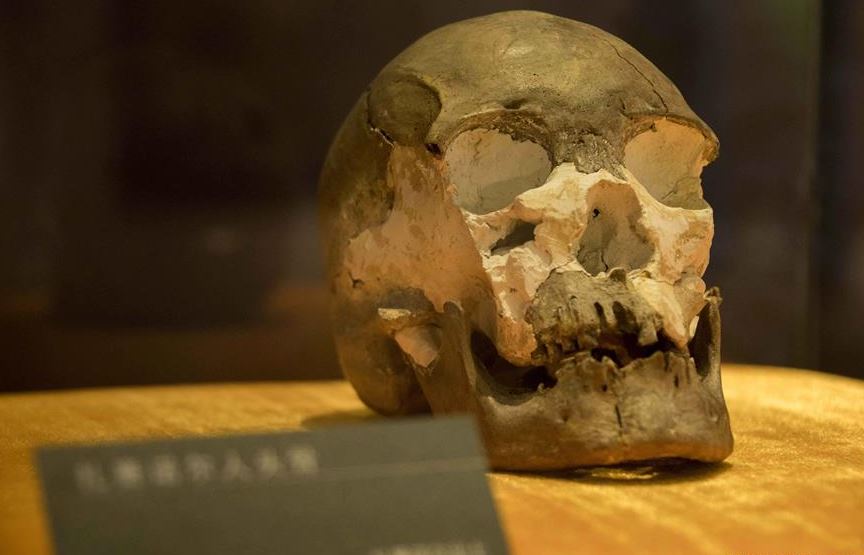 A human skull fossil discovered at Jalainur District at Jalainur Museum in Manzhouli, north China's Inner Mongolia Autonomous Region. (Photo: Xinhua)
BEIJING, Jan. 12 (Xinhua) -- A human skull found near the borders of China, Mongolia and Russia is confirmed as dating back more than 10,000 years, researchers announced Saturday.
A carbon-14 dating study on four skull samples discovered at Jalainur District, Manzhouli City in northern China's Inner Mongolia Autonomous Region confirmed the earliest sample was around 10,113 years old. The other three were found to date from 7,400 years, 1,600 years and 1,000 years, Wu Xiaohong, with the school of archaeology and museology of Peking University (PKU), told a press conference in Beijing. "These findings prove that humans had lived in the Jalainur area for 10,000 years," said Wu, a team member of the study. Starting in March 2018, the study was jointly conducted by researchers from PKU and the school of archaeology at Jilin University.
Jalainur, a county-level district under the jurisdiction of Manzhouli City, is located near Russia and Mongolia. It is believed to be the origin of the prairie culture in northern China. Historic records show major northern tribes, including Xiongnu, Xianbei and Khitan, used to live there.
The first Jalainur skull was found in 1933 when coal miners were digging at an open colliery. By 1996, 22 such skulls had been discovered.
As most of these human skulls were not excavated by professional archaeologists from the original formations they were located, it was hard to determine exactly how old the skulls were, said Zhu Hong, another team member from Jilin University.
The carbon-14 study has settled the dating problem, and the results and the pottery ruins unearthed there proved that Jalainur people lived at least 10,000 years ago in the Neolithic Age, the same period when Upper Cave Man lived, said Zhu.
Wang Wei, president of Chinese Society of Archaeology, said the Jalainur skulls are hominid skulls found at the highest latitude in China, and their skills of stone tool making had become relatively mature.
"They had learned to turn stones into slim blades and bind them onto bone tools as knife edges for cutting animals," said Wang, adding such skills were the most advanced around the world at that time.
Zhu with Jilin University said they also did a physical anthropology study, analyzing the DNA data of the Jalainur skulls, and the results would be announced later.
He also said they expected to find more skulls to study. "As many years have passed, most of the discovered skulls have gone missing. Even if we find more, it will be hard to confirm they were originally found in Jalainur."
Archaeologists are thinking of applying for an excavation project to find more direct archaeological information of the ruins, according to Zhu.
"The excavation will be very helpful for the research of the Jalainur people," he said.