Petra ranks 1st on Lonely Planet's new list
Shenzhen Daily
1602459131000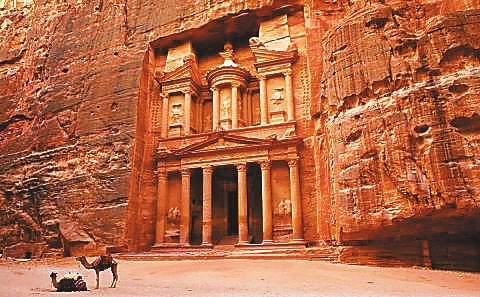 THE rose-red city of Petra in Jordan has ranked top in the latest Ultimate Travel List of Lonely Planet, world's leading publisher of the popular travel guides.
According to the list that featured 500 best must-see places released Wednesday, Petra, some 220 kilometers south of Amman, has been named as "the number one place in the world to experience outdoor adventure."
Also among the list are the country's "otherworldly" rose-sand Wadi Rum desert, the Dead Sea and the Dana Biosphere Reserve, ranking 36, 139 and 221, respectively, on the list.
"Historic and intriguing, Jordan enjoys a reputation as one of the safest and most welcoming countries in the Middle East," Lonely Planet said in the second edition of the Ultimate Travel List, which features the top 500 "most thrilling, memorable and interesting travel experiences in the world."
Commended for its "eternal air of mystery," the ancient sandstone city of Petra, a UNESCO World Heritage Site, was voted in as one of the New Seven Wonders of the World by popular ballot in 2007.
Wadi Rum or the "Valley of the Moon," which ranked 36 on the list, featured in some of Hollywood's biggest blockbusters, including "The Martian," "Aladdin" and "Lawrence of Arabia." The desert is best known for its red sands, majestic dunes and stunning rock formations.
The Dead Sea, which bagged the 136th spot, sits at 410 meters below sea level — the lowest point on Earth — and is well known for its therapeutic benefits.
Lonely Planet's international travel website is one of the world's most important references for providing inspiring and valuable content and information to all travel enthusiasts since 1973.
"The treasured UNESCO Heritage Site of Petra is the must-see ultimate experience on our list. Once nearly lost to the outside world, the sandstone city is now one of the most loved places on the planet, voted in as one of the New Seven Wonders of the World by popular ballot in 2007," according to the Lonely Planet website.
Spread over some 264 sqkm, Petra was constructed by the ancient Nabataeans, a civilization of crafters and merchants, and made for a grand trade route stop-off between Arabian oases.
But generations later, after the city was abandoned, it was known only to the Bedouin who made the caves their home. The iconic Treasury, looming 39 meters high, is most visitors' first sight of the city, reached after a winding journey through a narrow water-etched slot canyon. Rediscover the city's eternal air of mystery in the early morning or the hours before closing when it's at its most atmospheric, according to the Lonely Planet website.
(SD-Agencies)