Picasso's $115-million 'Young Girl' to be loaned to Paris museum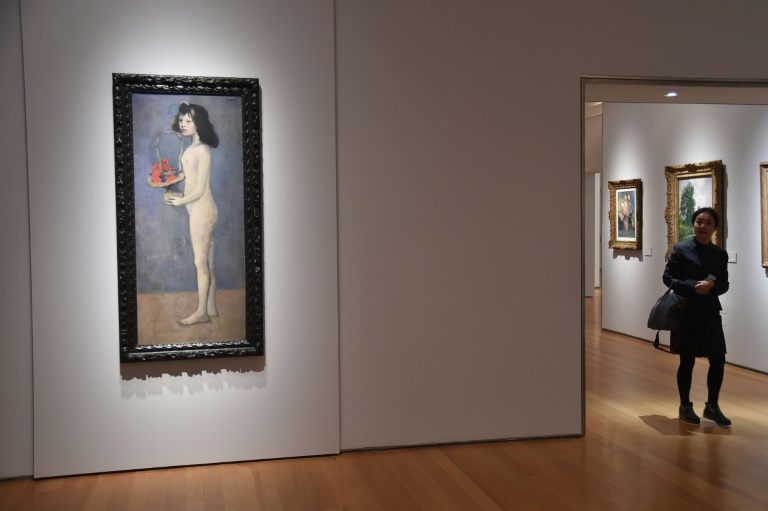 Picasso's 'Young Girl With Basket of Flowers,' sold last week at a Christie's auction in New York, will be loaned to Paris's Musee d'Orsay for an exhibit opening in September (Photo: AFP)
Picasso's "Young Girl With Basket of Flowers," recently sold at a New York auction for $115 million, will be loaned to Paris's Musee d'Orsay for a Picasso exhibit opening in September.
"We're very happy," a museum spokesperson said Saturday in confirming the loan, first reported in The New York Times.
The painting was purchased at auction Tuesday by the Nahmads, a family of art dealers and collectors that includes Helly Nahmad, owner of a New York gallery, according to two sources quoted by the Times. Nahmad did not respond to an AFP request, through his gallery, for comment.
The Musee d'Orsay's "Picasso: Blue and Rose" exhibit is being organized in collaboration with the Picasso Museum-Paris and will focus on the artist's work from 1900-1906, encompassing his critically important Blue Period and Rose Period. It will run from September 18 to January 6, 2019.
The exhibit will then move to the Beyeler Foundation near Basel, Switzerland, from February 3 to May 26, with a modified set of paintings. It is not clear whether the "Young Girl" will be part of that show.
- Record-breaking sale -
The painting, from 1905, was part of a major auction by Christie's of the extensive collection of the late US banker David Rockefeller and his wife Peggy.
"Young Girl," which the American collector Gertrude Stein and her brother Leo had purchased directly from the artist, was sold for the sixth-highest sum ever attained by a painting at auction, expenses and commissions included.
Four paintings by Picasso (1881-1973) have now been sold for more than $100 million each. No other painter has seen more than one piece of art reach that rarefied level.
Rockefeller, who died last year aged 101, was a grandson of oil magnate John D. Rockefeller. "Young Girl" was a centerpiece of his vast trove of artworks.
The Christie's sale brought in a total of $832 million, pulverizing the record for a single collection sale set in 2009, when the works of designer Yves Saint Laurent and his longtime partner Pierre Berge netted $484 million.