Cities claim to be Ne Zha's home amid success of film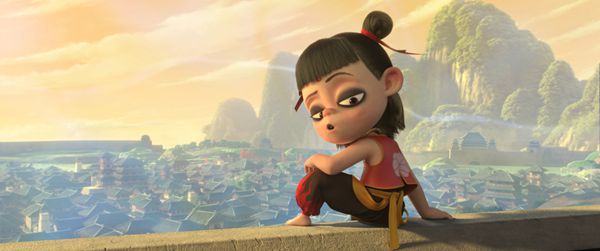 Chinese animated film Ne Zha has proved to be a big winner in this summer's box office. (Photo: China Daily)
The popularity of the animated blockbuster film Ne Zha has led to a number of Chinese cities staking claims to be the mythical hero's hometown in the hopes of developing their cultural and tourism industries.
Ne Zha, a warrior commonly seen in ancient Chinese fiction, was recognized by the gods for his bravery and appointed to lead the guardians in heaven.
Yibin, in Sichuan province, has posted a series of stories on its Sina Weibo account over the last week, claiming that the city is home to Ne Zha.
The city claims to have numerous locations closely tied with Ne Zha. For example, it contains an ancient town that used to be named Chentangguan - Ne Zha's fictional birthplace - as well as a cave, named Ne Zha Cave, which they say is the one that plays a prominent role in his story.
Also, in June 2018 the Chinese Folk Literature and Art Association recognized Yibin's Cuiping district as the "hometown of culture concerning Ne Zha", inspiring the city to shape Yibin into a cultural brand for Ne Zha.
The city of Tianjin, however, has made a counterclaim that its subdistrict of Chentangzhuang is the place that Ne Zha's father once guarded.
According to the city's website, Wu Cheng'en, the author of Journey to the West - a classic of Chinese literature detailing a pilgrimage by a group of unusual characters - paid a number of visits to Tianjin to collect stories about Ne Zha.
In addition, both Jiangyou city in Sichuan province and Xixia county in Henan province claim to be the hometown of Ne Zha.
Since debuting on July 26, Ne Zha has become the highest-grossing animated film ever on the Chinese mainland.
According to box-office tracker Maoyan, ticket sales for Ne Zha exceeded 3.6 billion yuan ($500 million) on Tuesday, making it the most bankable Chinese film this summer because of its gripping story and fancy special effects.
Wei Changren, president of Jinglyu Group, a tourism consultancy in Beijing, said that tourist destinations may be able to tap into the buzz about the animated film to lure travelers.
However, he said, it requires systematic planning and measures to make full use of the blockbuster over the long term, "or it will be a flash in the pan after the film is off the screen."
Li Qiuyan, director of Lvmama's brand department in Shanghai, also emphasized the importance of long-term planning for culture and tourism development related with Ne Zha.
"Ne Zha is a fictitious figure, of course, but he shares a rather high reputation among Chinese people because the fiction is very popular.
"It's similar with some entertainment properties like Disney using its animated figures to promote tourism and animation-related products in real life," she said.