'Jackass' prankster Johnny Knoxville on his latest eye-popping role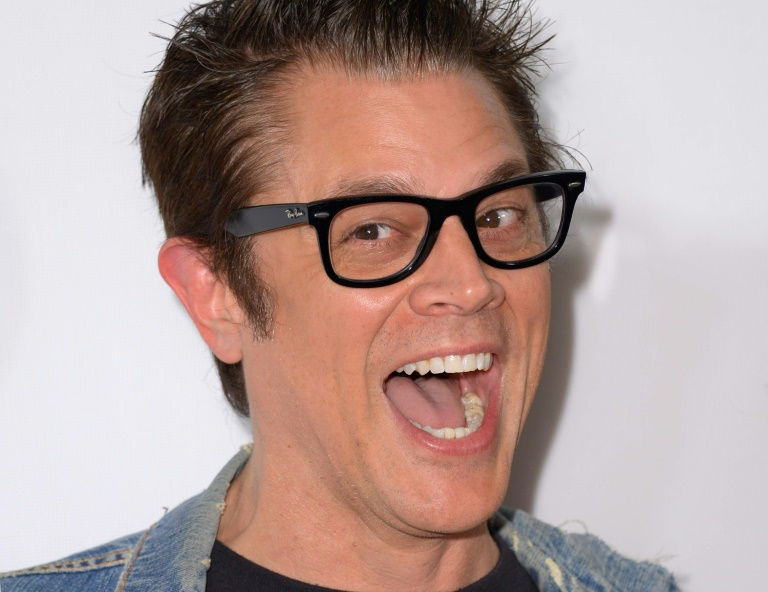 "Elvis & Nixon" Premiere - 2016 Tribeca Film Festival (Photo: AFP)
Slapstick superstar Johnny Knoxville was relaxing in his hotel after his latest on-set mishap when some dried blood in his nostril caused him to blow hard and his eyeball popped out.
Luckily, he hadn't been eating hot and sour soup or taking a bubble bath, and he was able to reach under, scoop it up and push it back into the socket.
It was the latest in a litany of injuries that would make the blood drain from the toughest stunt professional's face -- but it was far from the most stomach-churning.
"I have, like, 15 doctors for different parts of my body and they all have a special talk with me. I don't know what to tell 'em," Knoxville shrugs in an interview with AFP.
The star -- who rose to fame mesmerizing fans with his shocking stunts in MTV's 2000-2002 reality prank series "Jackass" -- was at Las Vegas CinemaCon to promote his new movie "Action Point."
He recalls a day's shooting for the comedy about a disastrous theme park when he landed flat on his face after flying 20 feet (six meters) through the air off a slide.
Knoxville, whose 31 movies include "Men in Black II," "The Dukes of Hazzard" and four releases in the "Jackass" canon, was rushed to the emergency room with a bad case of concussion and a fractured eye socket.
"I go back to the hotel room and I blow my nose because I had blood there. My left eyeball just pops out of my head. It's like a cartoon. I was like, 'Oh no!' I pushed it back in and I called the producer," he said.
"I was like, 'You've got to come get me. My left eyeball just popped out of my head.' He's like, 'Ah ha ha ha ha!' I'm like 'I'm serious.' He goes, 'I'll be right there.'"
The actor, born Philip John Clapp Jr, came up with the idea for "Jackass" 20 years ago, and it quickly became a hit among the skating crowd, making stars of Knoxville, Ehren "Danger Ehren" McGhehey and Stephen "Steve-O" Glover.
Cast members struggled with alcoholism, drug addiction and depression, however. And the series was rocked by the 2011 death of Ryan Dunn in a drunk driving accident.
Knoxville, devastated by the loss of his friend, threw himself back into work, writing and appearing in "Movie 43," "Jackass Presents: Bad Grandpa" and "Teenage Mutant Ninja Turtles."
In "Action Point," due out on June 1 in the US, Knoxville plays a daredevil who designs and operates his own theme park with his friends.
The comedy is inspired by Action Park, which opened in 1978 in Vernon, New Jersey, and built up a reputation for poorly designed, unsafe rides and intoxicated and underage staff.
Six people are known to have died at the center -- dubbed "Accident Park" by nearby hospitals -- and eventually it was buried under an avalanche of personal injury lawsuits.
"Gene Mulvihill ran it and he didn't have any rules for the kids. He let them design their own rides. I mean, it was just complete anarchy," said Knoxville.
The movie contains some of the daredevil's most hair-raising stunts yet, but he insists he doesn't actually enjoy pain. He's not even that addicted to the adrenaline rush, he says.
"It's the footage. I'm just trying to get footage. The producer side overrides the performer's nervousness," he explains.
Over the years, his injuries have included a torn urethra in a 2007 bike stunt that forced him to perform urinary catheterisation on himself twice a day for almost four years.
"I broke my penis!" he declares proudly, expression softening into a wide grin.
The fact that he managed to father two of his three children after that incident is all the more remarkable when you consider his gruesome medical record.
Knoxville has been treated for four concussions, a broken hand, a torn meniscus and whiplash -- all on "Action Point" alone.
As a child he was hospitalized for severe asthma and over his career he has fractured bones, torn tendons and been knocked out numerous times.
"I've used up most of my nine lives. I've been very, very lucky," he tells AFP.
"I don't know if I'm ready to stop right now. But I know it's getting to a point where I don't have a lot of chances left."