China confirms wreck site of battleship from First Sino-Japanese War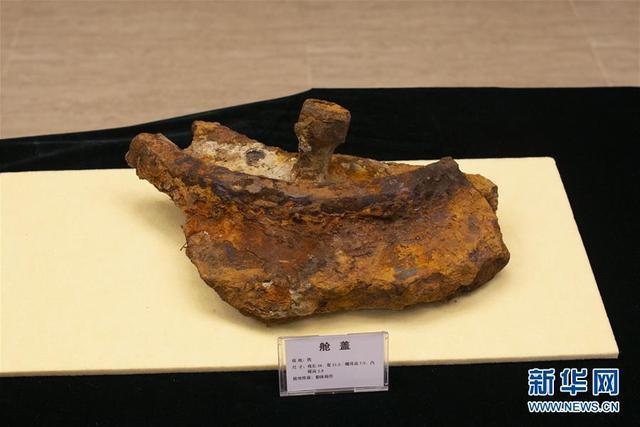 One of the shipwrecked relics from the Dingyuan Battleship (Photo: Xinhua)
JINAN, Sept. 2 (Xinhua) -- Chinese archeologists said Monday they have confirmed the wreck site of a Chinese battleship sunk in the Yellow Sea by the invading Japanese fleet in 1894.
An archaeological team has also retrieved more than 150 shipwrecked relics from the Dingyuan Battleship, the flagship vessel of the Beiyang Fleet of the Qing Dynasty (1644-1912) sunk in the First Sino-Japanese War, according to a seminar held on Liugong Island, Shandong Province.
The discovery came after two months of an underwater survey jointly carried out by the Underwater Cultural Heritage Conservation Center of China National Cultural Heritage Administration, Shandong Underwater Archaeological Research Center, Museum of Sino-Japanese War (1894-1895) and Weihai Museum.
Based on previous surveys in 2017 and 2018, archeologists used mapping and imaging technologies to survey the site, and sucked out thick layers of sand to expose part of the sunken ship hull, said Zhou Chunshui, head of the survey program.
With a displacement of 7,670 long tons, Dingyuan was built in Germany by the commission of the Qing Dynasty. It was damaged after being torpedoed by the invading Japanese fleet in February 1985, before its captain ordered it scuttled.
The discovery of the Dingyuan Battleship is of great historical and scientific value for research on the history of the Chinese navy, warships, as well as the First Sino-Japanese War, commonly known in China as the Jiawu War, said Jiang Bo, an official with the conservation center.
On July 25, 1894, the Japanese fleet attacked two Chinese vessels off the Korean port of Asan. At the time, Korea was a tributary of the Qing Empire. By March 1895, the Chinese army and navy were routed, which was the first time that China had been defeated by Japan in a military conflict.
This year marks the 125th anniversary of the outbreak of the Jiawu War. In recent years, Chinese archaeologists have discovered two other sunken ships -- Jingyuan and Zhiyuan of the Beiyang Fleet.
The Beiyang Fleet was set up in 1888 on Liugong Island. The island has been developed into a patriotic educational base as the war is regarded as "a bitter lesson to learn" in Chinese history. Enditem