Chinese sci-fi blockbuster pulls out of theaters after grossing 4.6 bln yuan
Global Times
1557350284000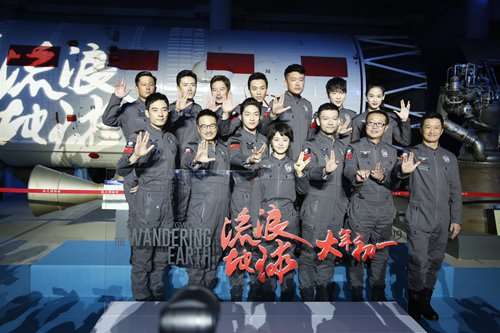 The Wandering Earth cast pose for a photo at a media event in Beijing on October 25, 2018. (Photo: IC)
Sci-fi blockbuster The Wandering Earth, an adaptation of Liu Cixin's story of humans struggling to move Earth to a new home, officially pulled out of theaters in the Chinese mainland on Monday after grossing more than 4.6 billion yuan ($690 million) in the 90 days since its February 5 debut.

Beijing Jingxi Culture and Tourism, the company that co-produced the movie, made the announcement on Monday evening via its social media account.

The Wandering Earth has become the country's second-highest grossing film of all time, only behind the Chinese action movie Wolf Warrior 2, which took in 5.6 billion yuan, according to the China Movie Data Information Network.

The film is about an ambitious project to propel Earth out of the solar system before it is completely devastated by the rapidly expanding Sun.

Hailed as China's first blockbuster sci-fi film, the production wowed audiences with spectacular special effects, which are widely deemed to be on a par with Hollywood standards, and the Chinese values of family, love and responsibility were conveyed in a way that resonated with global audiences.

Sci-fi movies will have a bright future especially in China where such movies will likely flourish, Liu told the Xinhua News Agency in an earlier interview.

The sci-fi trilogy The Three-Body Problem, which made him the first Asian writer to win the Hugo Award in 2015, has been translated into almost 20 different languages.

Apart from creating a sci-fi craze across China, The Wandering Earth gained lots of attention from non-Chinese audiences and media.

US streaming giant Netflix announced in February that it had bought the rights to the film, which would be translated into 28 languages for the company's streaming service in over 190 countries and regions.

It is not known whether the film will be overtaken by Disney and Marvel's Avengers: Endgame, which generated 3.9 billion yuan at the Chinese mainland box office in the 13 days since its premiere on April 24.

Avengers: Endgame continued to top the Chinese mainland daily box office despite a drop of daily gross on Monday.

It earned 33.79 million yuan that day, compared to its 51.12 million yuan box-office take the previous day.