Wedding photos for the elderly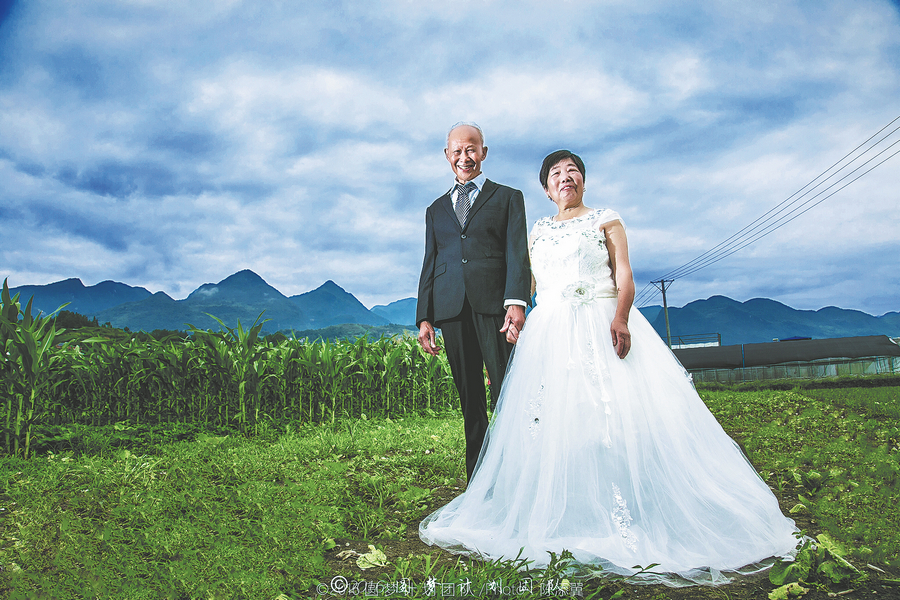 Older couples commemorate the big day decades after the fact thanks to a student project, Xu Lin and Zhou Lihua report in Wuhan.
After being married for 38 years, Zhang Jianjun and Qin Shumei decided it was time to get a picture. Dressed in formal attire, they are finally ready for their wedding photos.
The photographer, lighting operator and makeup artist are from the younger generation. They communicate with the elderly couple to help them overcome nervousness to ensure good photos.
They are all students from Wuhan University of Engineering Science, in Hubei province, and they are taking wedding photos for those who had no chance to do so when they were young, as a form of community service.
"I'm grateful that I've realized my dream to wear a wedding dress," says Qin, 64, from Shijiazhuang, Hebei province. "Our love is not the intense type, but we believe it's important to keep each other company."
While young people today would likely travel to a picturesque destination to have their wedding photos taken by a professional photographer, the older generation kept their big day simple — newlyweds around the 1970s often only took a black-and-white photo as a memento.
It was not until the early 1990s that professional wedding photo studios started to spring up in the Chinese mainland, as the economy blossomed.
Based on that reality, Yu Jinwen, 35, a counselor from the university, initiated the ambitious project in 2015.
It is also because of his grandfather. When he passed away in 2010, the family searched for a decent photo of him but could not find one and had to use the photo on his ID card as a photo for the funeral. It became Yu's greatest regret in life.
"The program has pleased the elderly and helped improve the overall ability of young students," Yu says. "China is an aging society and juniors should pay more attention to seniors, many of whom are too shy to express their demands."