Thousands march in anti-racism rally in Italian town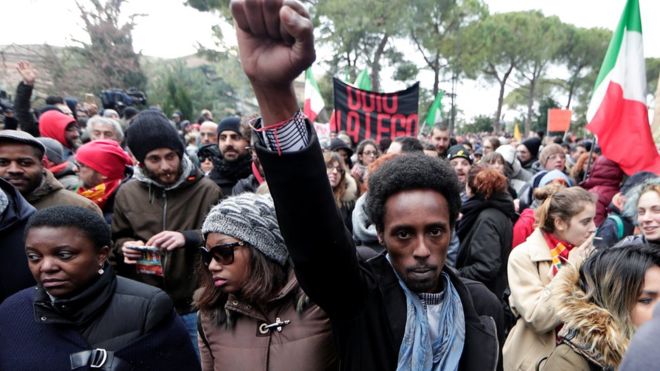 Thousands of people marched in an anti-racism rally in the city of Macerata on Saturday, a week after a far-right extremist targeted African citizens in a racially motivated attack.

An estimated 15,000 demonstrators from all over the country -- some 30,000 according to organizers -- marched all around the medieval walls without entering the city center.
Macerata -- a town of about 41,000 inhabitants in central Marche region -- was on high alert ahead of the rally for fear of possible clashes between demonstrators and neo-fascist sympathizers.
Schools remained closed, many shops shut ahead of the demo, while local transport was halted for some hours.
Mayor Romano Carancini had asked to cancel the demonstration to allow the local community to calm down after the attack occurred last Saturday.
However, after rising pressure from several prominent anti-fascist figures and groups, authorities gave the green light, and the rally was broadcasted live by state TV channel RAI News 24.
Demonstrators were peaceful and marched holding anti-racist placards, chanting slogans against fascism, Ansa news agency reported.
The gathering especially drew people from leftist associations and anti-fascist groups, from NGOs, trade unions, and leftist political parties. Several migrants also joined it.
Tension had run high during all the past week, and national authorities had warned against an increasing climate of hatred, after the unprecedented shooting on Feb. 3, when six African citizens -- five men and one woman -- were randomly shot and wounded in a drive-by attack by far-right sympathizer Luca Traini, 28, who was arrested soon after the shooting.
Traini was arrested soon after the attack, and confessed to it. Police said he claimed his gesture was in retaliation for the death of an 18-year-old Italian Pamela Mastropietro, whose body had been found dismembered and hidden in some suitcases two days earlier.
A Nigerian failed asylum seeker was arrested in the case, and was currently in jail, but not charged with murder for lack of evidence. Authorities later also detained two other Nigerian nationals, including a drug dealer, in connection with the case.
The Feb. 3 attack shocked the country, which was already experiencing a tense campaign in view of general elections set on March 4.
Migration was the top issue in the public debate, as some 630,000 migrants and asylum-seekers have entered Italy from the Mediterranean -- most of them in an effort to reach other European countries -- since 2014.
Far-right and center-right parties based the campaign on strong anti-immigrants messages, and were now trying to capitalize on the gruesome death of the Italian girl.
On Thursday, some 40 supporters of far-right Forza Nuova party tried to hold an anti-immigrant rally in Macerata, defying a ban from the police chief. They clashed with police in riot gear, and were stopped before reaching the town's central square.