Online video courses a boon for teachers
Having proved to be a useful tool during the pandemic, online courses will continue to be provided to students in conjunction with on-campus education, the Shanghai Education Commission announced on Aug 31.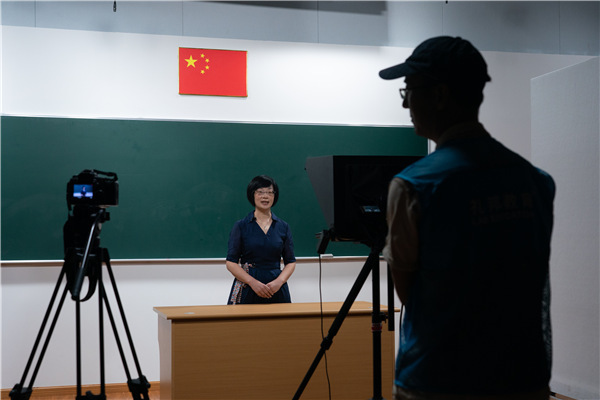 Jiang Li, a Chinese teacher from Shanghai No 3 Girls Middle School, has her lesson recorded by a colleague in a studio in Shanghai. (Photo: China Daily)
These courses have already been made available for the 2020 autumn semester for elementary and middle schools in Shanghai, which reopened on Sept 1.
Among those tasked with providing online courses is the Xuhui Institute of Education Shanghai, which will deliver senior middle school courses in Chinese and information technology along with elementary school courses in natural science this semester.
"The recording of the online lessons started when the pandemic broke out and it has continued until today. These online courses can act as a backup teaching resource during an epidemic and can also be used as supplement for regular teaching," says Li Hong, deputy director of Xuhui Institute of Education Shanghai, a teachers' vocational school in Xuhui district under the local education bureau.
"These courses are also a good resource for our teachers' professional development and can be used as a case study in teacher training and classroom teaching research," she adds.
More than 5,000 high-quality online video courses covering all basic subjects in schools were produced by the end of the spring semester, benefiting more than 1.4 million students from Grades 1 through 12.
According to Li, recording lessons for a course is not as simple as it seems. Each video, lasting only about 20 minutes, requires three teams of people and days to complete.
"The teaching team is responsible for ensuring the quality of the content, the technical team is responsible for recording, post-production, delivery audit and uploading, and the logistics support team ensures the safety of each team and is responsible for epidemic prevention and control," she explains.
"For example, our senior middle school Chinese teaching team has selected 22 teachers this semester to be involved in the recording. A group of teaching researchers from the city and district levels are also involved in helping prepare, record, and check the lessons."
Li says that the institute recorded 566 lessons last semester, accounting for about one-tenth of the total in the city. This semester, they will record around 300 lessons.
"The biggest difference with the online course is that it lacks any interaction between teachers and students. Since teachers cannot see the students, they have to design different methods to achieve that interaction in the various disciplines," says Yuan Wenzheng, director of the Information Resource Center at Xuhui Institute of Education Shanghai.
"For example, our information technology course features three 'virtual students' who can answer questions during the class. These avatars will also accompany students throughout the entire learning process," Yuan adds.
The introduction of the online courses has not just benefited students, but also teachers, says Fan Biao, a researcher specializing in Chinese classes for the Shanghai Education Commission.
"Many teachers in other provinces said that such recording work promotes fairness in teaching because we can now share high-quality teaching resources. Video courses are indeed a great lesson preparation resource for teachers in many schools," says Fan.