Internet technology offers closer look at fine art
People's Daily
1590735043000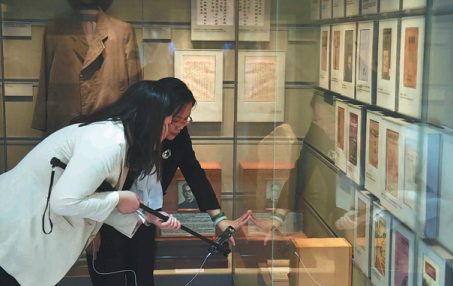 Staff members of the Lao She Memorial Hall in Beijing focus on a collection of the writer's manuscripts during a virtual tour of the property on May 16. (Photo: Xinhua)
While the Memorial Hall of Xu Beihong has been closed in light of the coronavirus, art lovers can take a virtual tour of the former home of the renowned Chinese painter who lived from 1895 to 1952.
The hall hosted a livestreaming show on International Museum Day, which falls on May 18 every year, and a docent described for viewers the story behind Xu's artworks. The show attracted nearly 2.9 million views online within 90 minutes.
Nine other Beijing-based former residences of late celebrities-such as prominent Chinese writer Lu Xun, political figures Soong Ching Ling and Li Dazhao-did the same that day in an effort to connect online viewers with art.
Altogether, the 10 shows were watched by 35.13 million people.
"The number of virtual visitors has exceeded that of physical visitors since last September," said Li Qing, deputy curator of the Memorial Hall of Xu Beihong. "Livestreaming has an edge. It helps us highlight the most iconic collections and interact with more audiences. It has extended the scope and functions of museums' public services," he added.
"Amid the virus outbreak, works of literature and art displayed in our museum have played a role in lifting moods and giving people hope," said Liu Qing, a staff member of Beijing Luxun Museum and the New Culture Movement Memorial of Beijing.
In addition, an exhibition that features more than 300 photos of about 14 celebrities was launched by the museums in keeping with this year's theme for International Museum Day-"Museums for Equality: Diversity and Inclusion". It will rotate among schools, communities and companies in Beijing, bringing art into people's lives.
According to officials with the Beijing Information Office and the Beijing Administration of Cultural Heritage, 94 themed events were rolled out on May 18 including 50 online exhibitions and 15 livestreaming shows.
They are part of the city government's plan to build Beijing into a city of museums, according to local officials.
"There are 187 registered museums in Beijing, it is a large number," said Ling Ming, deputy director of the Beijing Administration of Cultural Heritage."The plan, on the one hand, can help each of them find out their own characteristics and on the other hand, help build a more diverse museum system."
Beginning in 2018, the Beijing government created interactive programs and mobile apps and encouraged residents to engage in International Museum Day celebrations online, Ling added.
"This year, cloud computing technology was utilized," he said.
Local officials said that 50 museums in Beijing are currently open with precautionary measures including limited visitor numbers and bookings.