Chinese singer Lay Zhang invites fans to join in creating a song for novel coronavirus epicenter Wuhan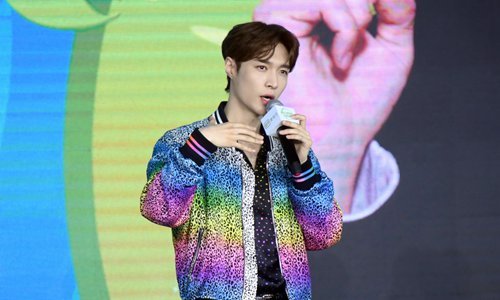 (Photo: VCG)
Fans in China and abroad spent all day working on melodies and lyrics after Chinese singer Lay Zhang announced on Saturday that he would be writing a charity song for Wuhan, the epicenter of the current novel coronavirus outbreak, based on people's submissions.
Zhang posted the announcement video on China's Twitter-like Sina Weibo that he is working on a song named "Huihaode" (It will be fine) and wanted to invite his fans to participate in its creation. He played a music track during the video and told his fans that they could submit their works through his studio's email address.
"I hope the song is like a sun that gives hope to the people who are fighting against the novel coronavirus on the frontlines. Let's cheer for them," he said in the video.
Hundred of thousands of fans both in China and abroad took to Sina Weibo and Twitter to share their works with their idol.
"I spent the whole night completing this song's melodies and lyrics. In light of the current epidemic, I hope everyone can stay safe," one fan posted on Twitter.
"I could feel Lay's growth and improvement in music after listening to the track he made. He is giving a certain segment to us to write the lyrics and melodies, which reflects his love for his fans," Liu Jianran, a fan living in Tianjin, told the Global Times on Sunday.
"The music he played in the video made me feel that spring is coming. The epidemic will eventually be under control and everyone will go back to their normal lives," Han Rui, a long-time fan and a college student studying in Southwest China's Yunnan Province, told the Global Times on Sunday.
Han said she was proud of Zhang for supporting Wuhan in such a unique way and that he is setting a good example of an idol for his fans by donating masks to the epicenter.
According to reports, Zhang has donated 300,000 masks to Wuhan hospitals and his hometown Changsha, capital city of Central China's Hunan Province, to fight against the novel coronavirus. Many netizens took to social media to compliment the star.
Zhang is not the first singer to create an inspiring song amid the virus crisis. Singers JJ Lin from Singapore, Gloria Tang Tsz-kei from the Hong Kong Special Administrative Region and Li Ronghao from the Chinese mainland also released songs to record the touching stories coming from the battle against the virus and cheer for Wuhan.