Competition lauds the oldest swinger in town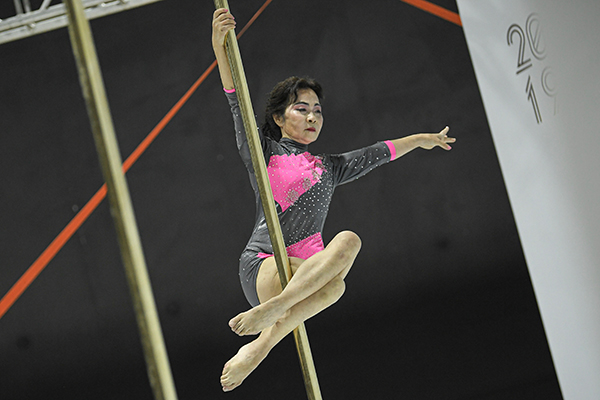 Dai Dali, 73, practices pole dance as a way of staying young and energetic. (Photo provided to China Daily)
Almost immediately after the second China Pole Sports Championships wrapped up on July 14, a video posted with the title "73-year-old granny performing pole dancing "became a trending topic on Sina Weibo, the Chinese equivalent to Twitter.
People's comments on the video, in which septuagenarian Dai Dali performed spins, hangs and inversions with a pole at the championship, are full of praise for the woman's radiant face, curvy figure and brisk moves.
"I'm glad to see these positive comments, which shows that people have become more open-minded and no longer judge pole dancing or pole sports," Dai says.
This is not the first time that Dai has found herself in the public eye. She once competed in Asia's Got Talent and later was invited to perform on the American TV show, Little Big Shots: Forever Young, hosted by Steve Harvey.
Wherever she performs on the pole, Dai, who's always stayed young at heart, often elicits a standing ovation from her audience.
The Chengdu native has regularly attended a gym to keep fit and pass the time since her retirement, and that's where she took up pole dancing nine years ago, making use of facilities the gym had for pole sports enthusiasts to practice.
"There are several poles installed in the gym," recalls Dai.
"Initially, I had no concept of the sport; I tried it just for fun.
"Later, I found I was really into the feeling of swinging all the way around the pole."
For an elderly beginner like her, though, it wasn't easy to keep up with other, younger learners. She regularly suffered from physical exhaustion and from painful friction burns from the pole.
Dai, however, seems to have a spirit of iron and developed her habit of striving for perfection in her youth. Despite the bruises on her thighs, she was determined to try out more new tricks and test her ability by heading to a pole dancing studio, sometimes as often as four times a week.
With years of persistence, she found that, apart from enriching her life after retirement, the fitness form has benefited many other aspects of her life.
"I seldom suffer from tendon inflammation and lower back pain now," she says. "I have also become less shy, more talkative and willing to share my experience with others."
Ren Fei, head of the Chinese branch of the International Pole Sports Federation that organized the recent championship, says that Dai, as the oldest amateur pole athlete in China, has already been invited to perform at the annual event twice. Ren explains that Dai's skill shows the public that it is not a dangerous or difficult sport only suited to young people in prime physical shape, and encourages people not to be put off by negative perceptions about pole sports.
"I also hope that Dai's story will encourage young people to be brave enough to deal with the frustrations and pressures they might encounter in their daily lives," Ren adds.