London's Nightingale among small museums that may face extinction
People's Daily
1591098867000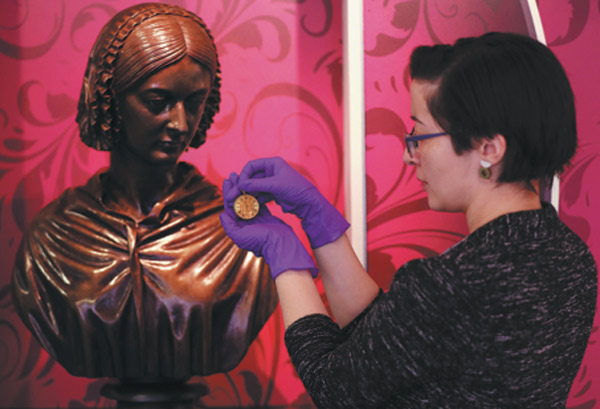 Curator Chloe Wong holds the gold watch carried by Florence Nightingale throughout the Crimean War during a preview of an exhibition at the Florence Nightingale Museum in London on March 5.
The fact that the emergency hospitals established in the United Kingdom to deal with the novel coronavirus outbreak were called Nightingale Hospitals shows the enduring importance of the founder of modern nursing, Florence Nightingale, two centuries after her birth.
Few people were looking forward to this year's 200th anniversary of her birth more than the staff at the Florence Nightingale Museum at London's St Thomas' Hospital, where a special exhibition had been arranged.
Ironically, however, the museum dedicated to one of history's greatest healthcare pioneers risks becoming history itself-in effect killed off by the sort of disease Nightingale fought-because the shutdown caused by the novel coronavirus threatens the existence of the Nightingale Museum as well as dozens of other independent museums across the country.
Museum director David Green said the first sign of the problems ahead came in dramatic fashion.
"The date we realized how much this was going to affect the country was March 5, the night we launched the exhibition," he said. "Health Secretary Matt Hancock was coming to the launch event, but at the last moment he was called away to address the nation's concerns on the BBC Question Time program."
Since then, the situation for the museum, built on the former site of the nursing school that Nightingale set up after the Crimean War of the 1850s, has grown worse.
"We don't get money from local or national government, or the National Health Service," Green said. "Around 98 percent of our funding is from museum admissions and retail sales. Last year, we had 55,000 visitors and this year hoped for 70,000.That's gone now."
Fortunately, a significant part of the exhibition Nightingale in 200 Objects, People and Places exhibition was made available online for those unable to attend in person. "Inadvertently, that's helped," Green said. "We've had a huge amount of hits, particularly from people doing home education, or craving something to lift their spirits."
Nonetheless, website visits are not as lucrative as physical visits.
"This crisis will be like three very harsh winters in a row," said Green. "The general consensus is that we'll be lucky to do 20 percent of the usual number of visitors through to next March, so we'll have to look at price restructuring as social distancing will compromise the visitor experience.
"Even when shut, our monthly running costs are about 20,000 pounds ($24,780). We've got a GoFundMe page which is doing well, and we've got some funding bids in, but I'd say we've got about four months of funding left. We've just got to keep clawing away."
Green said he hoped that the publicity the virus had given Nightingale's name might produce some benefits.
"I know how special this museum is," he said. "I've had nurses say they were considering leaving, quitting, then come here and realize how important the job is. People leave flowers at our bust of her. Now more than ever, people find Florence Nightingale inspirational. We're playing our part."
Facing similar challenges is the National Museum of Computing at Bletchley Park in Buckinghamshire. It usually attracts around 25,000 visitors each year to look at its collection of machines telling the tale of the development of technology and its role in modern life, housed in a building rented from the Bletchley Park Trust.
Head of trustees Andrew Herbert said the lockdown was proving difficult. "The trust does things like cut the grass, but we're independent in terms of attracting visitors and making sure they enjoy their visit," he said. "We have some generous benefactors, but we're almost entirely funded by money through the door. At the moment, that's quite challenging."
Although bigger institutions may have more financial power in the current crisis, Herbert said that conversely, the niche nature of many independent museums could be an advantage.
"We're not like major tourist attractions who have to fight to draw in big numbers, We each have our own audience, so we're not in competition," he said. "There's actually a lot of cooperation."
Appropriately enough, given its theme, the computer museum even before the outbreak had been increasing its online offerings, something that has now taken on greater significance.
"This isn't just a thing for now, it's about how we can reach a bigger audience in general," Herbert said. "Current circumstances have just accelerated things."
Careful budgeting means the National Museum of Computing may be in a more secure position than some others, but Herbert said the future will look different for museums that do survive.
"Most museums are looking at potentially late July/early August to reopen, and even if we manage that, social distancing means we'll have to operate very differently," he said.
"It's likely we'll have pre-booked, timed tickets, with lots of hygiene measures which might not be great for some of our older exhibits. For small museums with small staff, it's a big challenge."
Nursing and technology may be different topics, but in the current situation, their museums face the same tests. Rarely has Nightingale's message of hygiene been more relevant-and the importance of computers more vital.
"In the last few months, more than ever, we've depended on the internet, which was created out of concern about how to build a network which would survive major global disruption," said Herbert. "In that sense, this is the test for which it was originally designed. Our museum helps tell its story."