Chinese women volleyball team stunned by Italy at World Championship 2018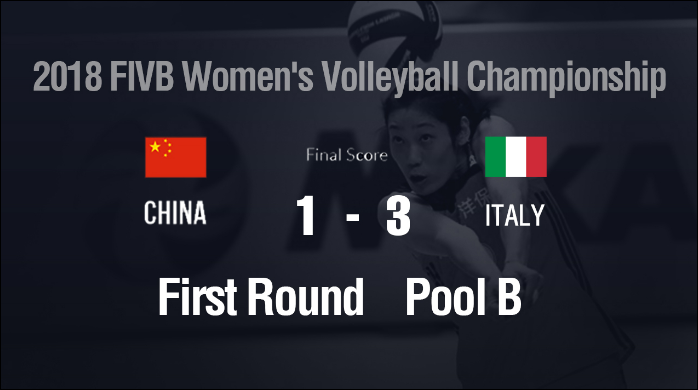 (Photo: CGTN)
Despite ace spiker Zhu Ting's 20 points, middle blocker Yan Ni's 16 points in the China-Italy competition for first ranking in Pool B, Chinese women's national volleyball team was beaten by Italy with 1-3 (25-20, 24-26, 16-25, and 20-25) loss at the 2018 FIVB World Championship in Sapporo, Japan on Thursday night.
Italy's opposite spiker Paola Ogechi Egonu grabbed 29 points along with two wing spikers Miryam Fatime Sylla's 15 and Lucia Bosetti's 14 points respectively.
China took an early offensiveness in the first set and established a 16-13 at the second technical timeout, then won a 25-20 set due to Zhu Ting's attack, taking a 1-0 lead.
Both two sank into a seesaw in the second set with a score of 24-24, then China failed to resist Sylla's spike and save the set point owing to a missed attack. Italy clawed back onerously to a 1-1 game.
In the third set, China left behind at the first technical timeout with a four-point gap at the second. Italy then enlarged the advantage due to effective blocks and took a 25-16 win, changing the score to 2-1.
China found the offensiveness in the fourth set but still took a 15-16 score at the second technical timeout. After clawing back to a 19-19 set, China got stuck in attacking and made a turnover. Italy seized the chance hold a 24-19 match point, and Egonu's spike ended China's hope with a score of 25-20, leading Italy a 3-1 game over China.