Hindu queen film releases in India amid high security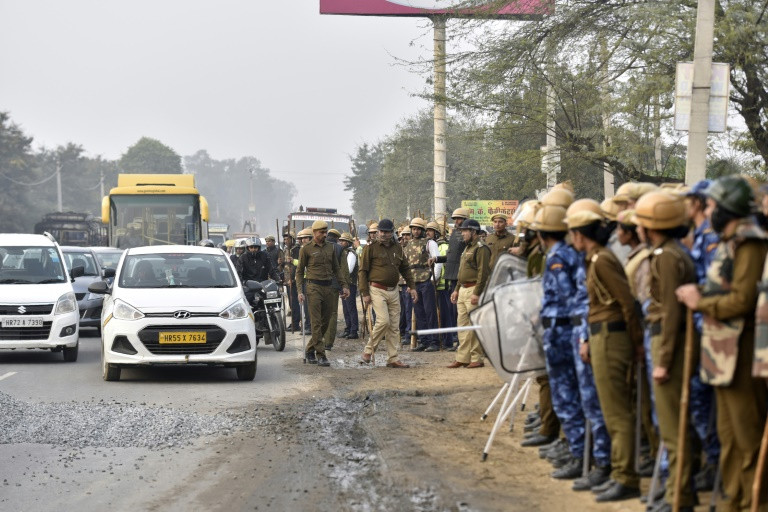 Police are on high alert across several states after protesters pledged to disrupt the release of "Padmaavat". Photo: AFP
A controversial Indian movie that has angered Hindu extremists finally opens on Thursday amid heightened security owing to fears of widespread riots.
Police are on high alert across several states after protesters pledged to disrupt the release of "Padmaavat", a Bollywood epic about a mythical Hindu queen.
Radical groups say the film will portray queen Padmavati falsely, a claim producers vehemently deny, and have threatened to attack any cinema that shows it.
Violent protests, which have been going on for over a year, escalated this week with hundreds of demonstrators rampaging through the streets of Ahmedabad.
Several hundred people attacked shops, set alight dozens of motorbikes and damaged more than 150 cars across the city in Gujarat state, according to police.
In Noida, near the capital New Delhi, activists burned toll booths on a highway after a rally while in Rajasthan state women carrying swords marched against the movie.
In Mumbai -- the home of India's Hindi-language film industry known as Bollywood -- Hindu protesters set car tyres on fire during an angry demonstration late Tuesday.
The following day Mumbai police rounded up 50 people affiliated to a hardline group that has been at the forefront of protests as they cracked down ahead of Thursday's release.
"We are providing security arrangements to all multiplexes and single screen theatres showing the movie," Mumbai police spokesman Deepak Deoraj told AFP.
"We will be patrolling the entire city and will have reserve forces deployed to prevent any flare-ups until the issue is resolved," he added.
Fanatical groups belonging to India's Rajput caste, who revere Padmavati, have been leading the protests which have picked up supporters from other Hindu groups.
- Box office hit -
Opponents claim the movie will feature a romantic liaison between Padmavati and 14th century Muslim ruler Alauddin Khilji despite repeated denials by filmmakers.
The movie's producers say the film celebrates Rajputs, who were traditionally warriors.
The protesters insist the movie distorts history, even though experts say the queen is a mythical character and that her story is based on a poem written over a century later.
Trouble first hit the movie in January last year when Rajput Karni Sena members attacked the film's director Sanjay Leela Bhansali and vandalised the set during filming in Rajasthan.
Members of the fringe group have threatened to attack cinemas, including with swords, on Thursday while hundreds of women have said they are ready to perform a mass self-immolation if screenings go ahead.
Hardliners have also offered bounties of up to 50 million rupees ($769,000) to anyone who "beheaded" lead actress Deepika Padukone or Bhansali.
Several states, including Rajasthan, Madhya Pradesh and Punjab, tried to ban the film but India's Supreme Court has ruled that this would violate creative freedoms.
"Padmaavat" stars Shahid Kapoor as Maharawal Ratan Singh, the husband of Padmavati, and Ranveer Singh as Khilji who leads an invasion to try to capture the queen.
It was initially due to hit screens on December 1 but filmmakers pushed back the release date and earlier this month India's censor board cleared it with five changes.
Many distributors are refusing to exhibit the film due to the threats of violence but industry watchers still expect it to be a hit at the box office.
"The movie will make 1 billion rupees (15.7 million) over the long weekend from Thursday to Sunday despite the protests," trade analyst Akshaye Rathi told AFP, referring to India's Republic Day holiday Friday.