Bird decorations at Beijing horticultural expo stolen
Global Times
1557856102000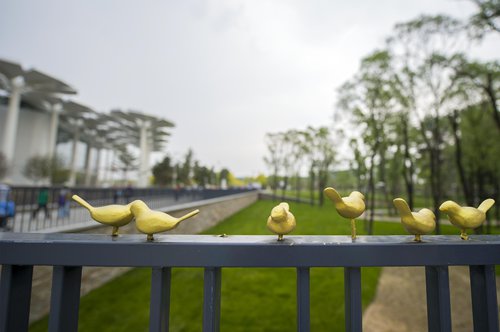 "Golden bird" models on the fences at the 2019 International Horticultural Exhibition in Beijing. Only 17 of more than 100 of them remains almost a month after the event opened. (Photo: Global Times)

Chinese netizens slammed the uncivilized behavior of some visitors after dozens of "golden bird" models made of metal, which decorate some fences at the ongoing International Horticultural Exhibition 2019, were found stolen only two weeks after the expo opened.

There were more than 100 metal birds installed on fences of a stone bridge to the south of the International Pavilion, but only 17 remained intact as of Sunday, China Central Television (CCTV) reported on Tuesday.

The metal birds attracted many visitors when the expo first opened, as people took photos with them, the report said.

Most bird models were then stolen by some people, leaving only screw holes on the fences.

After the thefts were reported, two security guards have been assigned near the fences to protect the "survivors," CCTV reported.

About 30 of them were retrieved, the report quoted a security guard as saying.

The guard said that these models will be reinstalled on the fences. "We will weld them firmer this time."

Chinese netizens were not happy. "These people sabotaged public facilities," "People should attend the expo in a civilized manner. What are you going to do with the stolen models anyway?" said typical comments on Sina Weibo.

The expo in Beijing not only brought the world's latest horticultural wonders, but also trust and recognition the world has on China and on Beijing, CCTV said, noting that as hosts, Chinese visitors should not fail this expectation.