'Roma' takes top prizes at 24th Critics' Choice Awards
LOS ANGELES, Jan. 13 (Xinhua) - Monochromatic drama film "Roma" took home the top film prizes with four awards at the 24th Critics' Choice Awards held at the Barker Hangar in Santa Monica, Los Angeles on Sunday night, winning best picture, best director, best foreign language film and best cinematography.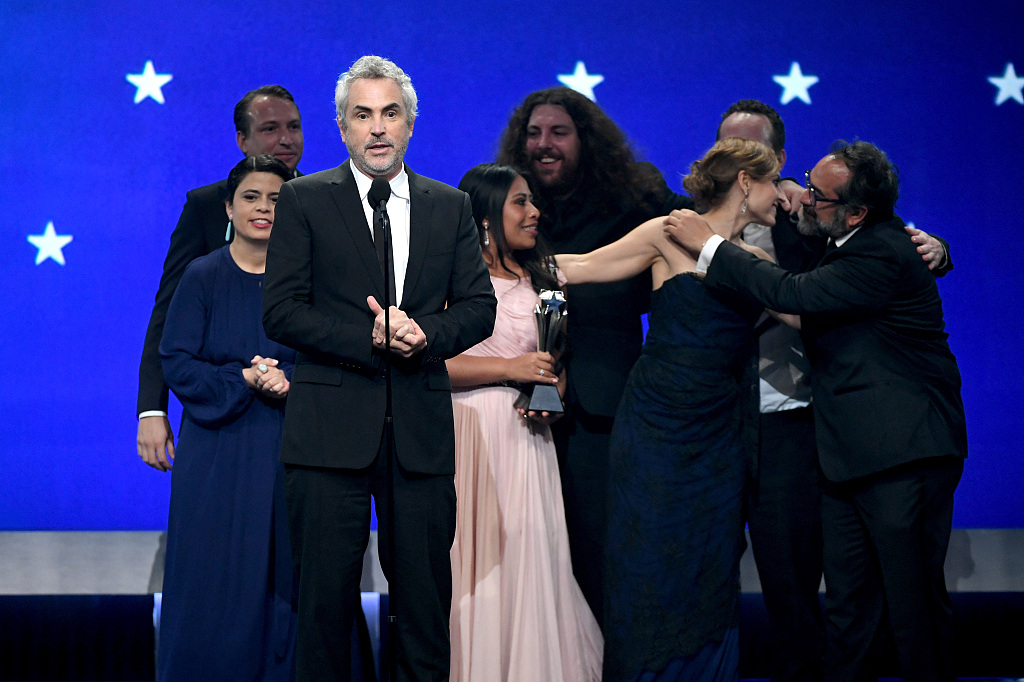 lfonso Cuaron (at microphone) and cast and crew of 'Roma' accept the Best Picture onstage during the 24th annual Critics' Choice Awards at Barker Hangar on January 13, 2019 in Santa Monica, California.(Photo: VCG)
Written and directed by Mexican filmmaker Alfonso Cuaron, the critically lauded autobiographical drama follows the life of a live-in housekeeper to an upper middle-class family.
The title refers to Colonia Roma, a neighborhood in the City of Mexico. The film won the Golden Lion at the Venice Film Festival last year and took home two wins last week at 76th Golden Globe Awards, including best foreign language film and best director.
It was a big win for the streaming platform, Netflix, to earn its first Golden Globe for a movie.
The film is also widely considered one of the front-runners in the foreign language film category in this year's Oscar race.
Superhero film "Black Panther" and biographical comedy "Vice" followed with three wins each.
"Black Panther" took home best production design, best costume design and best visual effects while "Vice" snagged best actor, best actor in a comedy and best hair and makeup.
Christian Bale won the top film acting awards for his portrayal of former U.S. Vice President Dick Cheney.
Historical period comedy "The Favourite" which led nominations with 14 nods took home only two awards, best acting ensemble and best actress in a comedy. Olivia Colman won the best actress in a comedy for the film.
Both Lady Gaga and Glenn Close won best actress for "A Star Is Born" and "The Wife" respectively. Lady Gaga also won the award for best song for her collaboration "Shallow" from "A Star Is Born."
Critics' Choice Awards are bestowed annually by the Broadcast Film Critics Association (BFCA) and Broadcast Television Journalists Association (BTJA) to honor the finest in cinematic and television achievement.