China's film market generates $581M during holiday
China.org.cn
1602233600000
The Chinese film market skyrocketed with new theatrical releases generating a total of 3.95 billion yuan ($581 million) during the eight-day National Day and Mid-Autumn Festival holidays, according to box office tracker and entertainment big data platform Lighthouse.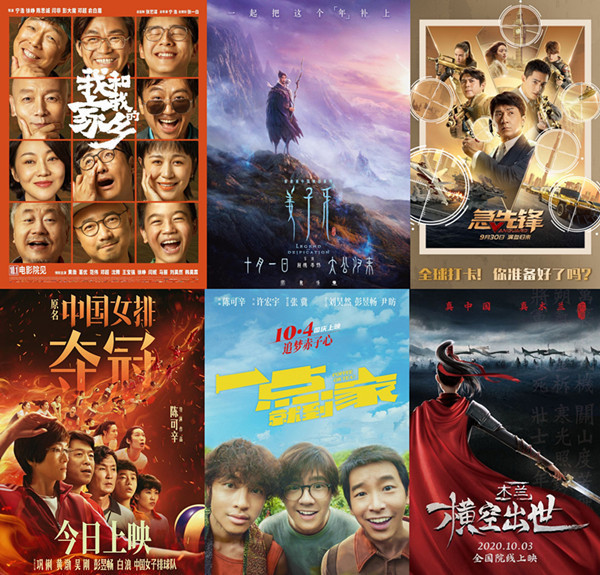 A poster combination showing characters from five blockbusters which will be released on IMAX this National Day holiday: "My People, My Homeland," "Legend of Deification," "Vanguard," "Leap," "Coffee or Tea?" and "Kung Fu Mulan." [Image courtesy of IMAX China, Alibaba Pictures, Beijing Culture, Beijing Enlight Media, MicroEnt, Bravo Entertainment, Ten Plus Media]
Nearly 100 million visits to cinemas made the film season the second-best National Day holiday performance ever, only lagging behind last year's achievements built upon the celebration of the 70th anniversary of the founding of the People's Republic of China.
Thanks to China's effective control of the COVID-19 outbreak, theaters were able to reopen in late July. Over the holidays the theaters were allowed to raise their seating capacity to 75%. On the first day of the holiday, Oct. 1, which was a celebration of both the Mid-autumn Festival and the National Day, films raked in 743 million yuan, the highest single day record for 2020 in China and worldwide.
Taking a closer look, the biggest winner was the anthology "My People, My Homeland," which is comprised of five poverty alleviation stories starring all-star cast and jointly made by nine big-name Chinese directors headed by Zhang Yimou. It was the highest-grossing film during the holiday, having made 1.87 billion yuan by Thursday.
The animated feature "Legend of Deification" claimed second spot on box office charts, grossing 1.38 billion yuan. It made 360 million yuan on its debut day, the highest opening and single day record for a Chinese animation ever.
However, it was also something of a disappointment, too, as it was seen and compared by many as a follow-up to the phenomenally successful "Ne Zha." It dominated the box office for the first two days of the holiday, but slid down to second place from Day 3. Mixed reviews recognized its bigger topic, darker theme and magnificent visual spectacle; however, its far from family-friendly, uneven and immature plot couldn't match the creators' ambition and audience anticipation.
Peter Chan's highly acclaimed sports film "Leap," which depicts the struggles of several generations of Chinese women's national volleyball team from 1981 to 2016, raked in 360 million yuan during the holiday and was the third-best performer. As it was released early, on Sept. 25, its total gross currently stands at 640 million yuan.
Though the top three's achievements look great, other films lost fire too soon. The biggest flop was "Vanguard" starring Jackie Chan. The action-packed brainless fun on offer proved no longer the favorite of Chinese audience. It suffered from bad reviews and has only made 221 million yuan so far. Considering the film is the latest collaboration between Chan and director Stanley Tong, a partnership which includes Chan's domestic highest-grossing film - the 2017 hit movie "Kung Fu Yoga" (1.75 billion yuan) - "Vanguard" failed to deliver a decent box office result. Plus, the film shows Chan, 66, is becoming too old for his action stunts.
A new Chinese CG animated feature, titled "Kung Fu Mulan", directed by Xi Chen and produced by Gold Valley Films over five 5 years, hit Chinese theaters on Oct. 3, but was pulled very quickly on Oct. 5 for reason that it had too little market share during the holiday period.
There were two smaller films for young people. Derek Hui's youth comedy "Coffee or Tea?" was released on Oct. 4 and received good reviews for its young partnership story from China's rural areas. Another youthful film "Let Life Be Beautiful" directed by Lin Ziping suddenly joined the National Day holiday race on Oct. 5.
All in all, so far in a year marred by the COVID-19 pandemic, Chinese film market's total gross has hit 12.2 billion yuan to date. There's only about a 1.4-billion-yuan gap to fulfil so that the Chinese film market could surpass North America film market in coming months to become the world's No.1 film market.
Comscore reported that 56% of all North American theaters are currently open, but there is no new major wide-release film in the North America in view for a long time into the future. Cineworld, which owned the second-largest theater chain Regal Cinemas with 543 theaters in the United States, confirmed on Oct. 4 that it is considering closure of U.K. and U.S. cinemas. As such, China's surpass should come any time soon in the remaining quarter.