Art exhibition held in San Francisco to celebrate 40th anniversary of China-US diplomatic ties
SAN FRANCISCO, Sept. 7 (Xinhua) -- An art exhibition featuring artworks of some prominent Chinese artists, including some overseas ones, was held Saturday at a downtown museum here to celebrate the 40th anniversary of the establishment of China-U.S. diplomatic relations.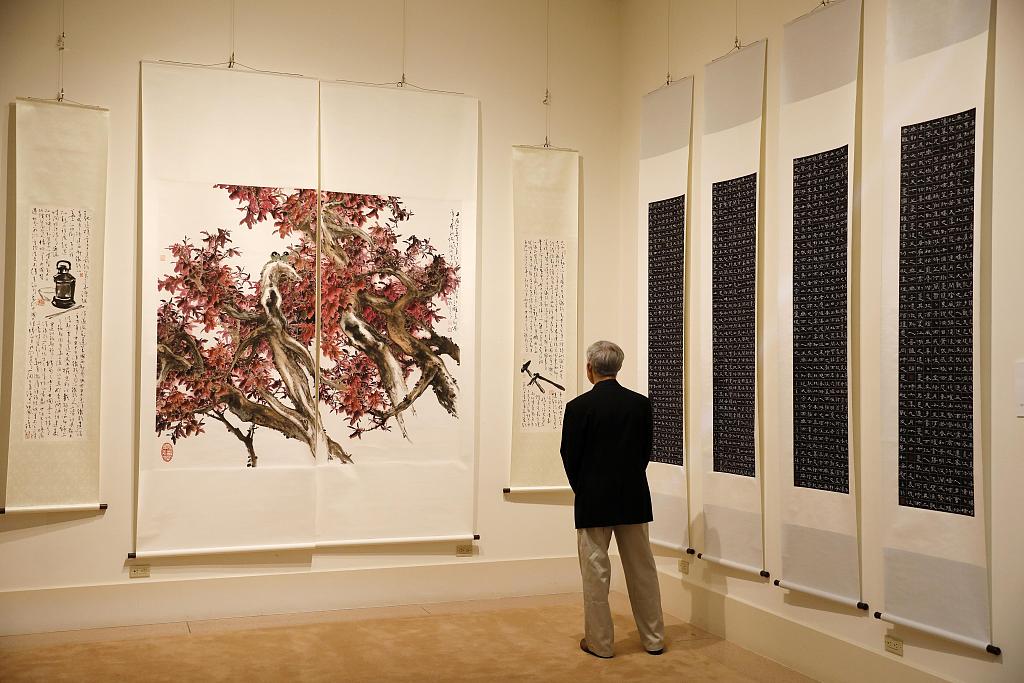 (Photo: VCG)
The three-day event, which is part of the celebrations of the Sixth Across Pacific-China Arts Festival currently underway in Northern California, put on display more than 60 artworks from over 30 artists from China and the Bay Area, which include traditional Chinese drawings, Chinese calligraphy and Western paintings depicting picturesque landscapes, towering mountains, flowers, trees, birds and human figures.
Bai Lu, president of the Elysian ChiAmerican Art Exchange Research Institute based in Northern California, said the exhibition seeks to reflect the upbeat spirit and thriving growth of a flourishing China on the occasion of the 40th anniversary of China-U.S. relations.
"All of the artistic pieces were carefully selected to match the theme of the exhibition that underpins the China-U.S. friendship," he said.
Rong Lv, secretary general of Elysian ChiAmerican Art Exchange Research, talked about the sense of responsibility of overseas Chinese artists to spread traditional Chinese art and culture.
"My own oil paintings combined the techniques of Western oil painting and the traditional style of Chinese brushwork," she said.
"Living in an era of the contemporary time, we should work to have our friends living outside China feel the amity of Chinese culture," Lv added.
Lana Constantini, executive director of the San Francisco Historical Society, expressed her appreciation of the Chinese art pieces displayed at the San Francisco Pacific Heritage Museum.
"The artwork is absolutely beautiful and our space is perfect for it. I'm also very happy to meet all the people that I have seen here attending the exhibit," she said.
"The exhibition showcased Chinese calligraphy and ink art of Asian artists both from San Francisco and around the world. I think it's sort of an international celebration of this art form," Constantini said.
Apart from the Chinese and U.S. paintings and drawings, the art festival also introduces Americans to Chinese dances, folk songs, acrobatics, visual arts events, Chinese tourism photo shows, exotic Chinese food, and intangible Chinese cultural heritage.