Innovation preserves timeless craftsmanship
When you walk into an iron craft studio on Changchun city's Bashu cultural business street, Northeast China's Jilin province, elaborate iron works of art will surround and amaze you.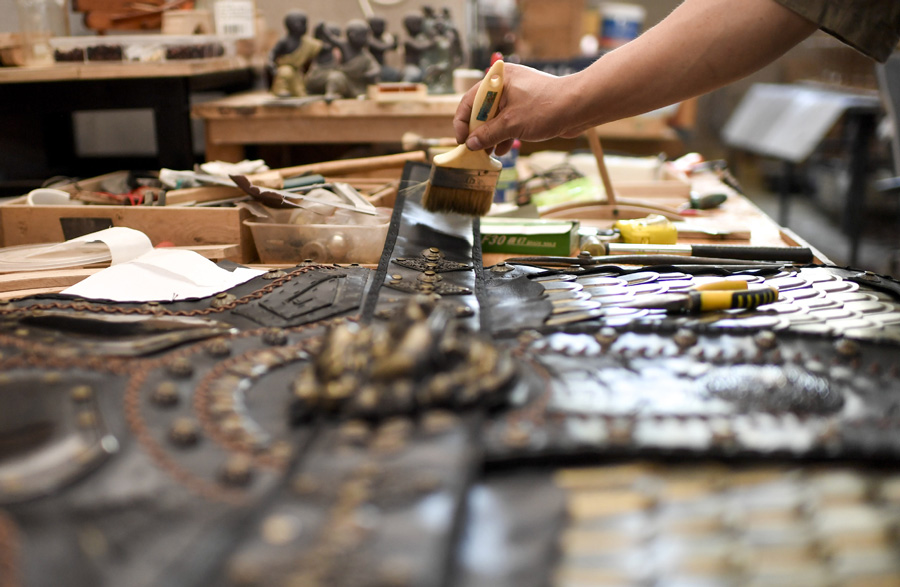 Yang Guangquan makes an ancient-style armor at his studio in the Bashu cultural business street, Changchun city, Northeast China's Jilin province, July 22, 2019. (Photo: Xinhua)
One such studio belongs to Yang Guangquan, a 50-year-old iron craftsman, who has been following in the footsteps of the elders in his family and learning iron-making skills since childhood. When he was young, he changed his jobs several times, but in 2013, he finally found his passion and decided to open the studio to promote iron crafts in northeast China's Jilin province.
Yang believes that only innovation can make craftsmanship survive in today's world. "The iron works presented to people must be in line with the times and popular forms," he said.
Over the past several years, Yang's studio has won the favor of many people; but the studio is just one method of preserving this tradition craft. Yang has also launched a folk artists cooperation platform involving nearly 100 craftsmen and covering more than 70 types of handicraft such as paper-cut, knife painting, and wood carving. The platform is responsible for finding a market for handicraft products, so that craftsmen can concentrate more on their creation.
"In this era, craftsmen need to innovate art forms while sticking to traditional craftsmanship to promote the traditional culture whilst revitalizing the craft itself, allowing it to be fully inherited," Yang said.