Silk Sonic wins Record of the Year at 64th Grammy Awards
LOS ANGELES, April 3 (Xinhua) -- American R&B superduo Silk Sonic won Record of the Year for "Leave the Door Open" at the 64th Grammy Awards held in Las Vegas on Sunday.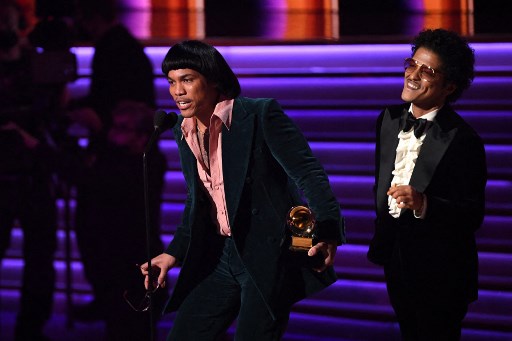 The duo, composed of Bruno Mars and Anderson .Paak, won the award over other nine nominees, including Olivia Rodrigo who won the award of Best New Artist on Sunday night.
Record of the Year is one of the four major categories of the Grammy Awards night, which also include Album of the Year, Song of the Year, and Best New Artist.
The 64th Grammy Awards ceremony was postponed from its original date in January to April due to the ongoing COVID-19 pandemic. It is the first time that the U.S. music industry's biggest event took place in Las Vegas, Nevada, rather than its usual post in Los Angeles and New York.