Initiative to cut workload on students sparks debate
A draft regulation of East China's Zhejiang province to allow students to quit working on their homework after a certain time in the evening has sparked heated debate on the internet.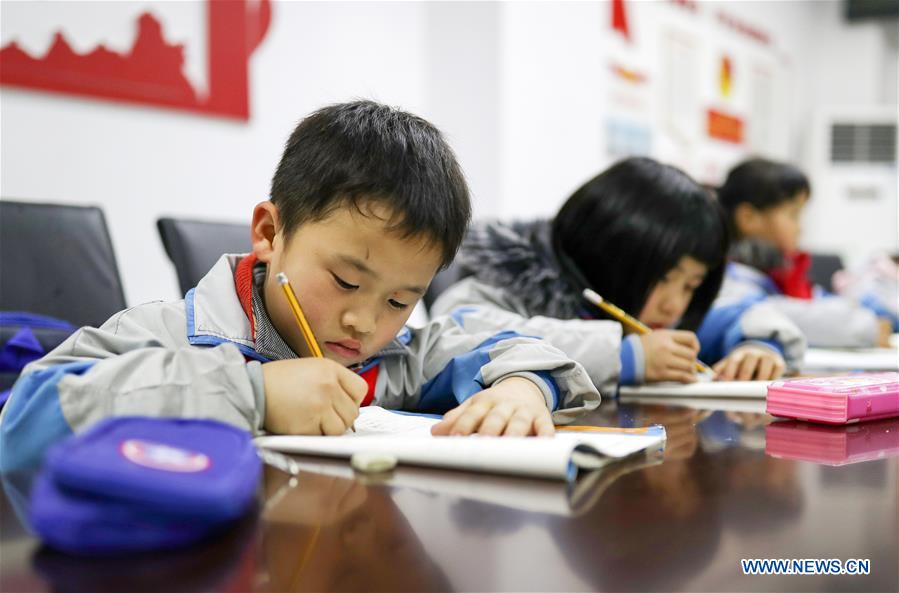 Primary students work on their homework at an after-school institution in Yuping Dong autonomous county in Southwest China's Guizhou province, Feb 27, 2019. (Photo: Xinhua)
The regulation stipulates that primary school students can refuse to do the homework after 9 pm and junior high school students after 10 pm, provided that their parents agree.
The regulation, part of a guideline released by the Education Department of Zhejiang on Monday, is aimed at cutting the academic workload on students.
The initiative ignited furious debate among Chinese netizens, especially parents.
While some applauded the measure, believing it would, to some extent, ease students' stress and ensure happier after-school time, many complained it will actually add more pressure on parents and children.
That's because examinations are still scheduled and students need good scores to get into a good college. This could prompt more parents, feeling anxious that their kids may lag behind their peers in school, to turn to after-school training institutions.
Others also pointed out that many students can't finish their homework not due to excessive assignments, but because they procrastinate or work at low efficiency. The regulation might offer them more excuses not to do the homework.
Many also worried it is difficult to fully implement the proposed measure.
Apart from this, the guideline also requires teachers to establish no more than one teacher-parent chat group. Nor can they assign homework in the chat group or ask parents to check homework, according to the guideline.