Chinese netizens boycott Thai boys' love drama '2gether: The Series'
Global Times
1586733460000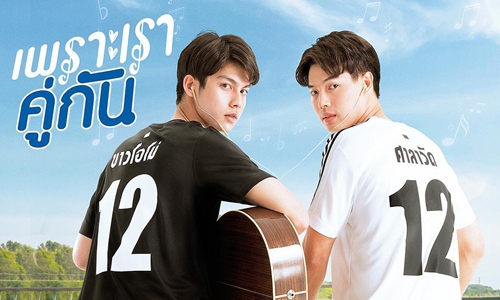 Promotional material for Thai boys' love drama 2gether: The Series. (Photo: GT)
Thailand TV drama 2gether: The Series is experiencing a backlash in China after the girlfriend of lead actor Vachirawit Chivaaree, who goes by the name Bright, retweeted an inappropriate comment about Wuhan and COVID-19. Chinese fans have expressed strong disappointment in the incident and say they will stop watching the boys' love drama.
Last week Chinese netizens pointed out that Bright liked a scenic photo on Twitter that listed Hong Kong as a "country. "
"Thanks for all the engagement! I do apologize for my lack of caution talking about HK. To be honest, the caption wasn't meant to imply any political stance in this conflict. I'm an outsider with no knowledge in this matter, and I only know HK as a beautiful place to be," the photographer behind the photo posted an apology on Friday after deleting the tweet with the photo.
Bright also apologized in a post on that same thread.
"I feel so sorry about my thoughtless retweet too, I only saw the pictures and did not read the caption clearly. Next time there will be no mistake like this again," he wrote.
Yet shortly after Chinese netizens accepted the apology, the actor's girlfriend Nnevvy, retweeted a post containing inappropriate comments about Wuhan and COVID-19.
The original post was written in Thai that roughly translated reads: "The virus lab in Wuhan has a stockpile of 1,500 species, including the bats used by Chinese researchers to test for vaccines. Once the epidemic occurred, China began saying that the US had sent the virus to Wuhan, but they aren't letting foreigners go to investigate whether the lab itself has leaked the virus or not."
Apart from the retweet, some also noted that in 2017, Bright commented on a photo posted by Nnevvy on Instagram that showed her dressed in Chinese clothing: "So pretty, just like a Chinese girl."
Nnevvy replied to the comment with "what?." When another commenter asked her to clarify what the style was, she replied with "Taiwanese girl." Chinese netizens have taken this exchange as an implication that "Taiwan is not part of China. "
Following the incident, Chinese netizens expressed their opposition to Nnevvy's retweet about COVID-19 and the Instagram comment separating Taiwan from China by boycotting the show. Related hashtags for the boycott have earned more than 4.64 billion views and over 1.44 million posts on China's Twitter-like Sina Weibo.
"There is no such thing as an idol when it comes to the important matters of our country," commented one netizen in a post on Sina Weibo.
The hashtag of #nnevvy also has started trending on Twitter in Thailand and Hong Kong, as many Thai netizens, Hong Kong and Taiwan separatists joined the online verbal battle.
The TV drama starring Bright and co-star Win Metawin Opasiamkajor has been hugely popular on Chinese social media since it premiered in Thailand on February 21, with Chinese volunteer groups working to provide Chinese subtitles for the show. The show originally had a 9.3/10 on popular Chinese media review site Douban, where it was hailed for "reaching the ceiling of Thai boys' love dramas," but this score has now dropped to 9.0/10.
On Saturday night, one of the translation groups announced on Sina Weibo that they will no longer produce subtitles for the show nor promote it.
Both Bright and Opasiamkajor opened Sina Weibo accounts in mid-March given the popularity of the show in China. However, as of Saturday evening, Bright's more than 600,000 followers on Sina Weibo had sharply decreased to 430,000 by Sunday afternoon.